How to Structure a Story in a Presentation
A MECLABS Institute Research Partner was putting together a major presentation and recently reached out for thoughts on how to structure it. As with conversion and many other areas of marketing, MECLABS (the parent research organization of MarketingSherpa) has a specific framework for crafting engaging presentations.
Using a trusted framework can help, because public speaking — whether on webinars, in-person at conferences, to prospects on a sales call, or in an internal meeting — does not come naturally to many people. In fact, public speaking is often ranked as a more common fear than death in national surveys, prompting Jerry Seinfeld to remark, "In other words, at a funeral, the average person would rather be in the casket than giving the eulogy."
How morose. But it points out the need to support whoever in your company is speaking on behalf of your brand — sales reps, subject matter experts, C-level execs, even yourself — with a well-crafted presentation that helps them engage and convert the audience. You want to leverage the power of story and not rely on their speaking abilities alone.
The fundamental marketing challenge behind every presentation
Since presentations are communication and a representation of the brand, they are inherently a marketing challenge.
And like any marketing challenge, the goal is to make sure the value delivered outweighs the cost to the potential customer.
This is true for any call-to-action you have in the presentation, for example, moving to the next step in the sales process for a sales presentation or visiting a website for a presentation at a conference.
However, it's even true for just getting your audience to pay attention to you. Let's be real, it is very difficult to pay attention to anything for an extended time in 2018. If the value isn't higher than the cost of avoiding email or putting down their phone or leaving the webinar or simply zoning out, you will lose them.
Speaking can be a humbling experience. I've personally thought before, "There are 1,000 people in this room right now. Why should those 999 sit there quietly while I stand on a stage and talk?" The answer is — because I'm delivering value to them — not talking about what matters to me, but discussing what truly matters to them.
A six-step framework for crafting engaging presentations
So now with the big-picture conversion objective in mind, how do you structure your presentation? Here is a six-step framework created by Flint McGlaughlin, Managing Director and CEO, MECLABS Institute. If you've ever seen Flint present before, you know he's a very compelling presenter (and if you haven't, here's an example — The Prospect's Perception Gap: How to bridge the gap between the results we want and the results we have)
Well, here's how he does it.
Step #1: Build the problem
Why should your audience care? Why should they pay attention? You need to present a problem that is important, relevant, and urgent to your audience. Then encapsulate that problem in a single sentence. Here's an example:
The problem: Marketers are insecure about writing copy. They don't know where to start. They feel intimidated by copywriting "experts" who say writing copy is a honed skill in persuasion that takes years to master. Further, marketers are hard pressed against many tight deadlines which leave them little to no time to really focus on crafting copy.
The problem question: How can I quickly craft effective copy?
Note that within the problem lies an opportunity. After all, if you can quickly craft effective copy, then you will be more successful in your career.
Here are some elements you can use to emphasize the problem at the beginning of a presentation:
Case Studies
Research Data
Real-world Examples
Audience Polls
Common Questions
Personal Stories
You could use your own case studies and data. Or you can use third-party case studies and data. Here's a quick example I saw from Erin Gordon, co-founder of SavvyOutsourcing.com, because she used some case studies from MarketingSherpa and MECLABS to build the problem for her presentation on Conversion Optimization Web Development …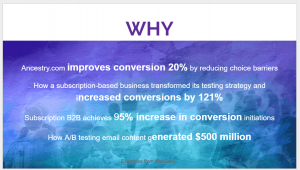 When you build the problem, you want to do it in a compelling way that instantly draws people in, gets them to sit up in their seats and pay attention. A great analogy Flint once shared with me is the opening of a James Bond movie.
Before the credits roll, boom, James is running through the streets of Shanghai, pursued by both a gang of ne'er-do-wells and officials from the Chinese government. Or skiing down a mountain, dodging bullets. Whatever problem James Bond is facing, he's instantly captured your interest.
Step #2: Establish the authority
This happens at the same time you're building the problem. Maybe the audience agrees there is a problem, but why should they listen to you to solve it?
Knowing this methodology, it's interesting to watch how political candidates handle this. They all begin with a problem:  The economy is bad, the debt is out of control, we're losing our values, education is crumbling, health care is too expensive, climate change must be addressed, etc.
But they're bringing up problems that vexed at least the current office holder if not many more predecessors and other government officials as well. So they must do a great job of establishing their authority. Essentially, if nobody else could fix this, why can they?
There are some instances when you don't have to do much to establish your authority, for example, if you're a very famous keynote at a conference who has been heavily promoted to the audience beforehand. You still might want to reinforce your authority, but other than that, you don't have to work too hard.
Yet there are other presentations where establishing authority (of the company) is crucial — like an opening sales call.
The same elements you use to build the problem can help you establish authority too, like first-party case studies and research.
External validation is another element that can help: industry and academic credentials, or a great introduction from a respected host. If you're doing a presentation on statistics and you have a PhD in statistics from Princeton, that helps build trust.
You don't want to overlook establishing your authority, but you don't want to overdo it either. As I mentioned above, you want to get right into the presentation before you lose your audience. I've seen some speakers on webinars spend the first 10 minutes of a 30-minute webinar just talking about themselves and their products. Blah, blah, blah.
Get on with it already! The audience cares about themselves, not you. They only need to know enough about you that they trust you to help solve their problem. They're not going to buy on the first slide.
It reminded me of how John F. Kennedy began speeches. He was a great orator, but first he said hello to all the key people in the room. For example, he opened his Remarks at the America's Cup Dinner with:
Ambassador, Lady Beale, Ambassador and Mrs. Berckmeyer, Ambassador and Lady Ormsby Gore, the Ambassador from Portugal, our distinguished Ministers from Australia, Ladies and Gentlemen …
Perhaps that was Presidential protocol in 1962. But if that's how you sound mentioning all your products and industry awards in the year 2018, I've already left the webinar.
Step #3: Reveal the "Aha" factor
Now you want to start solving that problem you've built. What is novel, special or important about your solution? The "Aha" factor is the key proposition upon which the entire solution to the problem is based.
This works well for presentations from MECLABS because our presentations tend to be built around our discoveries.
But most good stories will have an "Aha" factor. Here's an example. In a presentation I did with Dan Briscoe, VP of Marketing, HCSS, the "Aha" was that his company grew revenue by not focusing on their company but focusing, instead, on their customers.
There's some novelty in that. A paradigm shift perhaps. We haven't taught anyone anything yet or convinced them of anything. But we have whet their appetite. We have opened them up to what we'll say next.
In a webinar I did with John Jordan, Executive Director of Digital Marketing, The Global Leadership Summit, the "Aha" was that marketers think they have certain digital marketing challenges like generating traffic or writing compelling content …
But the fundamental challenge really underpinning all of that is the value proposition.
And then the rest of the webinar delivered on that proposition.
Step #4: Walk through the spine
This is the meat of your presentation. OK, you've got their attention. You've opened them up to an idea. Now you have to walk them through, step by step.
The spine makes up 60-70% of your presentation and can answer the how, what, why, when, who, which and where questions regarding your topic.
Here's an example spine from the MECLABS Landing Page Optimization on-demand course.
"We are going to walk through a simple heuristic that can help you systematically improve the conversion rates on your landing pages."
There are some elements you can use to make your spine more memorable and clear to your audience, just don't overdo them:
Mental Cues
Alliteration
Acronyms
Associations
Parallel phrasing
Visual Cues
Headlines
Breadcrumbs
Transition slides
Emphasized keywords
 Step #5: Infuse the audience lifts
Don't overlook how easily people can be bored and how much they want to be entertained.
Before writing this blog post, I was in a meeting with my colleague Matthew Klein about his session at B2B Online Miami. His session is at 5:30 pm, so we were brainstorming some audience lifts he could begin his presentation with. After all, a conference is a long day. You want to keep the audience mentally engaged.
And about every 10 to 15 minutes in your presentation, you'll want at least a small lift. Here are a few examples:
Take live (or preselected) questions from the audience
Conduct audience polls
Ask the audience questions

What do you think of this page?
What would you do if you were in this situation?
What do you think will happen? Why?

Conduct group or individual activities (like worksheets)
Interact with audience-submitted information
Engage a selected audience member(s) to illustrate a point (banter)
Share an anecdote
Tell a joke
It goes without saying, the joke should be relevant and funny. Even better if it furthers the "Aha" factor you're trying to communicate. Here's a great example. In a presentation Jay Baer gave at a MarketingSherpa event, he discussed how vital customer service was to marketing. He brought up examples showing how social media and review sites can affect brand perception, including this review on TripAdvisor: I think I can feel death creeping up on me as I write this…
After making extreme statements like "I'm about to walk out to my car to get my own blankets because this bed is so gross I don't even want to imagine how many people are brought here to be murdered," the reviewer adds in a throw-away statement about the poor WiFi at the end, showing how integral WiFi has become, right along with life and death. (As E.B. White said, "explaining a joke is like dissecting a frog," so the joke doesn't work in this blog post, but it killed in the room).
Step #6: Provide the application
This is your call-to-action. OK, you've heard my information. Now go. Do.
This should usually come after a summary of sorts, usually one or two slides, capping off the famous advice to "tell them what you told them."
These are the next action steps. They could be sales-related calls-to-action like going to a specific landing page, visiting the brand's booth on the expo floor or creating a Statement of Work for a proposed project.
Or it could be simply instructions on life — do down dog for five breaths every morning. Reach out to three people you don't know on LinkedIn but want to meet and invite them to lunch. Use our app to scan the next five products in the story to discover their climate footprint.
Whatever it is, if you did the first 28 minutes well, these last two minutes are when you give them the next steps to help overcome the problem previously identified. Make their life and career better. And meet your marketing goals.
Here's a nice example from the presentation by Erin Gordon referenced in Step #1.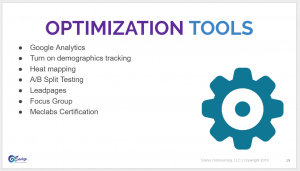 Now go. Do. That's my call-to-action to you. And if you get inspired to create some great presentations by this blog post, we'd love to see them.
You can follow Daniel Burstein, Senior Director, Content & Marketing, MarketingSherpa and MECLABS Institute, on Twitter @DanielBurstein.
You might also like …
Voice-Over Coaching: Tips for improving external webinars, internal trainings and other content
5 Steps to Telling Your Team's Story Internally
How to Sell Your Marketing and Advertising Ideas to Your Boss and Clients (with free template)
Designing Slides That Don't Suck: 20 questions to ask before you present
Copywriting On Tight Deadlines: How ordinary marketers are achieving 103% gains with a step-by-step framework
Morgan Spurlock and Using Storytelling in Your Campaigns
Categories: Value Proposition Tags: content marketing, Copywriting, Marketing, Value Proposition