Landing Page Optimization: Original MarketingSherpa Landing Page Handbook now available for free download
I recently received an email from a MarketingSherpa reader asking how he could point people to the Landing Page Handbook. He ended the email by saying …
"I still think the Landing Page Handbook is the best resource on the topic that has ever been produced."

— Ken Molay, President, Webinar Success
And the data shows it. The MarketingSherpa Landing Page Handbook is one of the most popular resources we have offered in 20 years of publishing. So we dug into our archives, and are now offering this handbook free to you, the MarketingSherpa reader.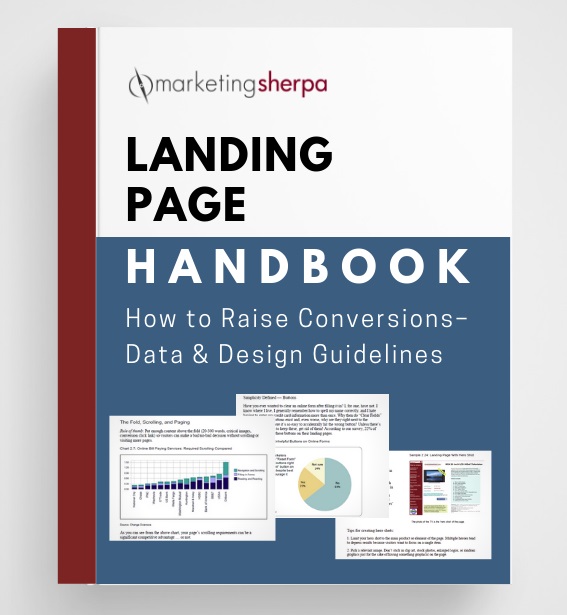 Since it's publication over a decade ago, the Landing Page Handbook has been a frequently cited resource throughout the years. Some examples:
CLICK HERE TO DOWNLOAD YOUR FREE LANDING PAGE HANDBOOK
And of course, generated plenty of discussions when its second edition was released in 2007:
When it was first released, it elicited these testimonials:
"This book is astonishing and you should read it. It's astonishing because it will tell you very obvious things that you don't know, didn't realize and weren't taking action on. As the person who invented the term Landing Page in 1995 (right after Al Gore invented the internet) I can tell you that we've waited a long, long time for this sort of common sense, hands on, verified info. The bad news is that you are now out of excuses."

— Seth Godin, Author, www.SethGodin.com

"I wanted to drop you a note telling you how incredible your Landing Page Handbook is. The handbook is clear about what works and what doesn't work with loads of data to support its claims. I am in the process of implementing changes and fully expect massive improvements to my metrics. Once again, you have shown why MarketingSherpa is the only source we need to improve our Web presence."

— Brett Hayes, RentQuick.com

"I want to thank you for putting out the landing page handbook. I found that document instrumental in getting one of our clients a 400% lift in conversion response."

— Elliott Easterling, VP Sales and Marketing, Co-Founder, Red Bricks Media, www.redbricksmedia.com

"My honest advice? Buy this report, copy what others have done to increase their landing page conversion rates, and make more money. It's as simple as that."

— Nick Usborne, Publisher, www.excessvoice.com

"I bought the Landing Page Handbook. I was in two minds about buying it for ages. I am a one-man band so $250 is a lot when your sales are so low. Within the first 50 pages I was 10 for 10 on the common mistakes made on landing pages. I started applying the book's recommendation to my site. I have gone from +-1 sale a week up to 3 a day and climbing consistently for the past 3 weeks. All the 'Experts' told me to up my spend on Adwords to up sales and I did. I now realize I was just wasting my money till I read this book and made the changes. Great book, worth every cent."

— Peter Mercer, Director, Network & Perimeter Security Services
In 2019, the landing page has become the key conversion point for marketing and advertising. Money and effort spent on everything from newspaper and magazine advertisements to digital, search, social and display ads attempt to send potential customers to a landing page. So any improvement in landing page performance creates a positive cascade of improved ROI for upstream traffic-driving efforts.
MarketingSherpa has been writing about (and its parent research organization, MECLABS Institute, has been researching) landing pages since their very inception.
In fact, this blog post you're reading is taken from my intro letter to this latest release of the handbook, one of three intro letters you'll read in the book, making me feel a bit like religious scholars who add commentary on top of commentary from previous writings. The handbook was originally published in 2004, and then the second edition was published in 2007 (at which point, 36 million search engine results demonstrated the growth of landing pages. Today that number is 476 million).
But many of the lessons in here are timeless, which is why we are providing it to you right now. A few of my personal favorites are:
Tips for creating hero shots — on page 84
Using photos of people — on page 86
Buttons: Can you see your button from across the room? — on page 104 (even more important now with the rise of mobile)
Analysis of gobbledygook in press releases — on page 128
How to test a landing page contest to test new "outside the box" ideas — page 249
Thank you for reading MarketingSherpa, and you can download your handbook here.
While I hope you find this handbook helpful, we have more recent content about landing pages that you might find helpful as well:
Categories: Website And Landing Page Design Tags: B2B marketing, Consumer Marketing, Email Marketing, Inbound Marketing, landing page optimization, marketing strategy, Online Marketing