Marketing has a language all its own. This is our latest in a series of posts aimed at helping new marketers learn that language. What term do you find yourself explaining most often to new hires during onboarding? Let us know.
There are two metrics to look at when you are analyzing the amount of traffic coming to your website — visits and unique visitors.
What's the difference?
"Visits" refers to the number of times your website or webpage has been visited during a reporting period. It's important to note that a single person can make multiple visits.
"Unique visitors" refers to the actual number of people (well, sort of, more on that in a bit) who have come to your website or webpage at least once during a reporting period — this number does not increase if a previous visitor returns to a page multiple times.
So, if you visit MarketingSherpa.com 10 times in a day, it is recorded as one unique visitor and 10 visits. If you even refresh a page 10 times, it is counted as 10 visits, one unique visitor.
But, how does Google Analytics (or Adobe Analytics, etc.)  know someone has visited previously? It's measured with IP addresses and tracking cookies. So, to clarify, if you visit the same site using the same IP address 12 times, it is recorded as one unique visitor and 12 visits.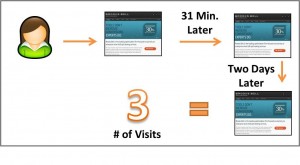 Does "unique visitors" really tell us the actual number of people visiting our site?
It is important to recognize that these numbers can get cloudy. Many people use different browsers, browse from multiple devices, use multiple IP addresses, or clear their cookies regularly while surfing the web. Additionally, most cookies expire within one month. So, someone navigating to a site through three different browsers will be counted as three unique visitors. Someone who scrolled through a product page on their phone but moved to desktop for purchasing is considered two unique visitors.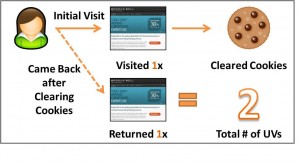 The great thing about both of these metrics is that when you look at them together, you can roughly see how often people (aka prospective customers) are repeatedly coming to your website.
You can also see a rough average of how many visits each individual coming to your site has. All you have to do is divide the total number of visits by the total number of unique visitors.