Lead Generation: Trends in 2012 marketing budgets
According to the MarketingSherpa 2012 Lead Generation Benchmark Report (free excerpt at that link), 71% of survey respondents indicated that generating high-quality leads was a top challenge.
So, in today's blog post, let's look at lead generation budget trends (hint: money is moving to online tactics) and provide some resources to help you make wise use of that budget.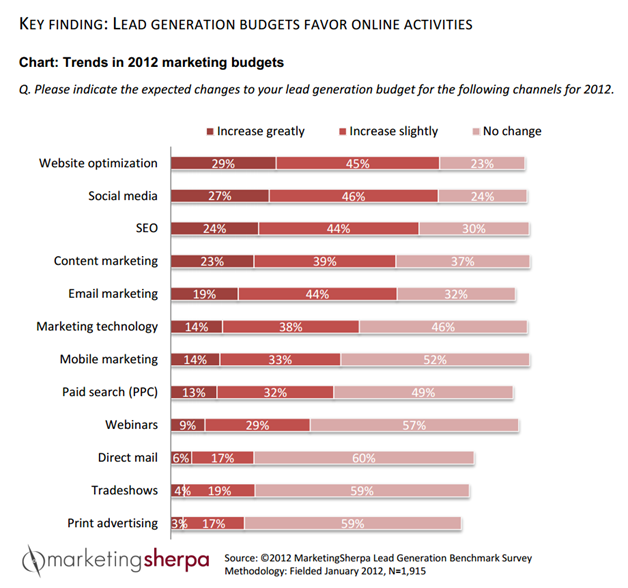 To help you get the most effective use of your budget, here are several case studies and how-to articles for some of the tactics mentioned in the above chart.
Website optimization
Lead Generation Optimization: Finding the right amount of friction
Learn how to optimize for high-quality leads or a high volume of leads, depending on your organization's needs.
Website Optimization: 7 ways to reduce the perceived cost of lead generation offers
You will only capture a lead if the perceived value of providing that information outweighs the perceived cost. This blog post covers seven areas you can test on your website to reduce the visitor's perception of cost.
Lead Capture Optimized: 201% increase in captured leads with clearer value proposition
This blog post explores the other side of the equation: increase the communication of your value to capture more leads.
Social media
B2B Social Marketing: 4 ways to build one-to-one relationships with social influencers
According to MarketingSherpa's 2012 B2B Marketing Benchmark Report, the most effective social marketing tactic you can implement is to build one-to-one relationships with social influencers. This blog post gives you four ideas for building those relationships, which you can then leverage to help your lead generation efforts.
Social Media Marketing: 7 steps for using contests and sweepstakes to promote your brand
To increase the value (and virality) of your lead generation efforts, it's worth testing what incentive you can provide your prospects. Contests and sweepstakes can be very effective incentives, and when coupled with social media, can amplify your lead generation efforts. This blog post provides a step-by-step guide for launching your own contests and sweepstakes.
B2B Social Media: Video of Jay Baer destroying social media myths
Jay Baer, social media strategist and speaker, Convince & Convert, discusses common social media marketing myths in this excerpt from his B2B Summit 2011 keynote.
How IntraLinks Used Social Media to Generate Twice as Many Sales-ready Leads as Any Other Channel
Social media, in this case LinkedIn, produced twice as many face-to-face meetings as any other channel for this SaaS company. Read on to lean how they did it.
SEO
Webinar Replay: How to Integrate Social Media/SEO to Drive More Leads and Increase Marketing ROI
This webinar covers two effective inbound marketing lead generation tactics, which work better when used in tandem.
Email marketing
List Growth Tactics: How Kodak added 33% more email subscribers and 53% more YouTube followers
See how a B2B team at Kodak overhauled its capture page, added more calls-to-action, and updated its welcome series to grab 33% more email subscribers. Find out how the team integrated its social media channels and grew its audiences there, too.
Email Segmentation: Targeted program reduces advertising costs 73%, leads to 3,000% ROI
Learn how one healthcare company overcame the challenge of reaching its audience, grew its email database to 64,000 entries over four years, and drove a 3,000% ROI in the process.
B2B Email Marketing: How reputation, content and brand management affect deliverability
An otherwise brilliant email marketing campaign will fail if its emails are caught in spam filters. Deliverability is particularly challenging for B2B marketers. That's because they typically send emails to many different corporate domains, instead of many emails to one provider, such as Gmail or other freemail domains.
Paid search (PPC)
Paid Search Marketing: Automation increases revenue 22%
Paid search can be an effective way to increase revenue, but the actual process of managing PPC campaigns can also be very labor intensive. Using software to automate some of the overall effort is one way to help manage and track paid search.
One e-commerce site did just that, implementing automation in its extensive paid search campaigns. Find out how it began testing and optimizing its efforts, increased its managed keywords by 500%, and boosted revenue from paid search 22%.
Conversion Rate Optimization: Minor changes reduce cost per conversion 52.9%
Desguaces y Piezas is a lead generation site in the auto parts industry. Read on to see what you can learn from how it optimized its PPC landing pages.
PPC Ads: What is search engine marketing best used for?
Pay-per-click can be an effective way to generate leads for your website … just make sure you have realistic expectations for what these ads are effective at.
Webinars
Content Marketing: 21 ideas for planning, creating, and leveraging content from your webinars
Content marketing webinars are effective for earlier stages of the funnel, like lead generation, and for lead nurturing, which helps pull prospects through the funnel.
Direct mail
How to Switch from Direct Mail to Emailed Sales Lead Generation Campaigns
As you can see in the chart at the top of this blog post, direct mail budgets are stagnant while email marketing budgets are growing. Read on to see how this marketer got started using email, including putting the lead generation form in the actual email itself, so prospects do not have to click through to a landing page to respond.
Trade shows
Lead Testing: 90% of successful lead follow-up occurred within 28 days of first contact
Use this test to spark ideas to improve your own lead generation and nurturing efforts.
Lead Generation: Targeted event marketing effort leads to 300% ROI, generates 140 qualified leads
This case study looks at an OEM provider that focuses on a yearly trade show, and decided to run a multi-channel, multi-month campaign around that event to generate awareness and leads. Learn how this effort was able to exceed every KPI, and also lead to 300% return-on-investment for the entire campaign.
Related Resources:
Moving From Back Pats to Business, Social CRM Is For Real (via Convince & Convert)
Marketing Research Chart: Choose your marketing channels wisely
Webinar Replay: Teleprospecting that Drives Sales-Ready Leads
Nine Reasons Why B2B Marketing Should Own the Teleprospecting Function
Bringing Science to Teleprospecting: A Complex B2B Lead Generation Test
CRM and the Marketing Database: Data hygiene, behavioral analysis and more
Categories: Lead Generation Tags: Email Marketing, lead generation, paid search, SEO, social media, website optimization