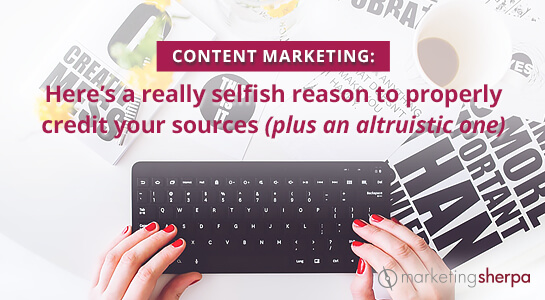 This article was originally published in the MarketingSherpa email newsletter.
The rise of digital publishing has provided a voice to anyone with a digital device and an internet connection, anywhere in the world. For brands and businesses — both massive and solopreneurs — it means the ability to publish content marketing and get the word out about your products and services directly to the customer.
That's a good thing. A powerful way to grow your company.
But as publishing has become democratized, now all of us are newspaper editors and book publishers — with no training.
And because of that, properly quoting your sources is a significant professional courtesy that is seriously lacking.
Quit biting my style
In any creative or artistic endeavor, there lies the temptation to copy successful inspiration. Music. Writing. Comedy. "You have a better chance of stopping a serial killer than a serial thief in comedy," comedian David Brenner said. "If we could protect our jokes, I'd be a retired billionaire in Europe somewhere — and what I just said is original."
Having an actual new idea is extremely difficult. As Barenaked Ladies has sung, "It's all been done before."
And occasionally, we're not even aware we didn't come up with an original idea, as this quick clip from Seinfeld so beautifully illustrates:
But do you see what I did in each of those instances? I gave credit where it is due. As we publish content through MarketingSherpa, MarketingExperiments or MECLABS Institute, I'm also surprised how often people think it's okay to simply use our content with no permission or attribution.
And I'm not talking about content scraping. That is straight-up malicious.
But there are plenty of seemingly well-meaning content marketers who don't credit sources just for lack of knowledge. While there are brand journalists who have actually gone to journalism college, most people publishing content marketing today have done so with little to no training. It's just not their expertise.
So they overlook properly crediting sources. And when you don't credit your sources, you are essentially taking credit for someone else's idea and saying it is your own. You are copying.
I'll give you an example. I was a guest speaker on a webinar. We did a run-through on the slides before the webinar. And I was impressed with some of the content this speaker and this company had. So after the run-through, I started asking him about it.
He was quite forthright. Didn't realize he was doing anything wrong. "Oh, that's just some stuff I found by Googling around." But for anyone watching the webinar, attendees would have thought it was his content and data (unless they knew the original, in which case he would have looked like a fraud). The story has a happy ending. He was more than happy to properly source, once our team showed him how — which I'll show in just a minute, but first, what's in it for you?