Marketing 101: What is a point-first headline?
Marketing has a language all its own. This is our latest in a series of posts aimed at helping new marketers learn that language. What term do you find yourself explaining most often to new hires during onboarding? Let us know.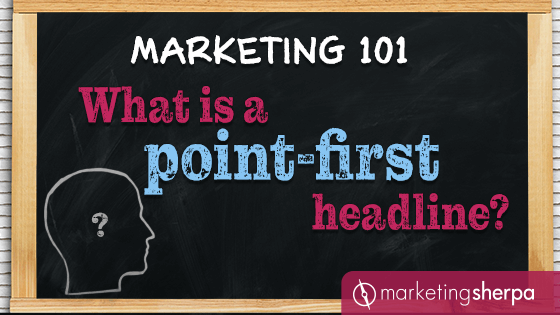 This article was originally published in the MarketingSherpa email newsletter.
A point-first headline is a headline that begins with the main point you are trying to make to the reader.
There are three types of sentences: point first, point middle, and point last.
Creative Sample #1: Illustration of point-sequenced grammar
Essentially, when you write a point-first headline, you are leading with the information that is most appealing and relevant to the reader. So placing the main point of value for the customer in the front of the sentence increases the probability it will be read and understood by potential customers. For this reason, the best-performing headlines are typically point first.
Writing a point-first headline is the equivalent of the inverted pyramid in journalism. Writing a story this way encourages the reporter to put the most newsworthy info first.
Another journalistic saying that is very applicable to a point-first headline is "Don't bury the lede." In other words, make sure the most newsworthy part of the story is front and center. For marketing, "most newsworthy" translates to "main point of value to the customer."
A headline experiment
MECLABS Institute worked with a survey company to research which headlines would be most effective to recruit panelists to take surveys (MECLABS is the parent organization of MarketingSherpa).
The experiment tested a series of point-first and point-last headlines. Below you can see each headline along with its conversion rate. We've also underlined the main point in each headline.
Point-first headlines
Get Paid to Take FREE Surveys: 28.76% conversion rate
Here's Your First Survey, and an Invitation to Join Our Research Community: 28.35%
Get Paid to Fill Out Online Surveys: 27.98%
Get Rewarded for Your Opinion: 27.92%
Surveys – Quick, Easy and FREE: 27.52%
Win Cash & Prizes for Online Surveys: 27.27%
Point-last headlines
Set Up Your FREE Account Today and Start Earning Money!: 27.35%
You're Invited to Join the [Company Name] Community and to Earn Rewards For Your Opinions: 27.14%
Join the [Company Name] Community and Have Your Opinions Count: 26.92%
Take Online Surveys From Home and Win Cash & Prizes: 26.81%
As you can see, point-first headlines tended to outperform point-last headlines.
While no point-middle headlines were included in this experiment since they tend to underperform both point-first and point-last headlines, here are a few examples of what point-middle headlines for this landing page might look like.
Point-middle headlines
Sign up today and get paid to take free surveys
Take free surveys and get rewarded for your opinion
Share your opinions and win cash with online surveys
As these examples show, the main value to the customer is easier to overlook in a point-middle headline.
Page Templates That Work
The tendency for point-first headlines to outperform point-last and especially point-middle headlines (all else being equal) led MECLABS to recommend to marketers that you should test point-first headlines on your landing pages.
In the free resource Page Templates That Work: Improve conversions with these scientifically proven webpage templates, the templates advise marketers to use a "Point-first headline that clearly communicates the value of the page objective."
Creative Sample #2: Excerpt from Page Templates That Work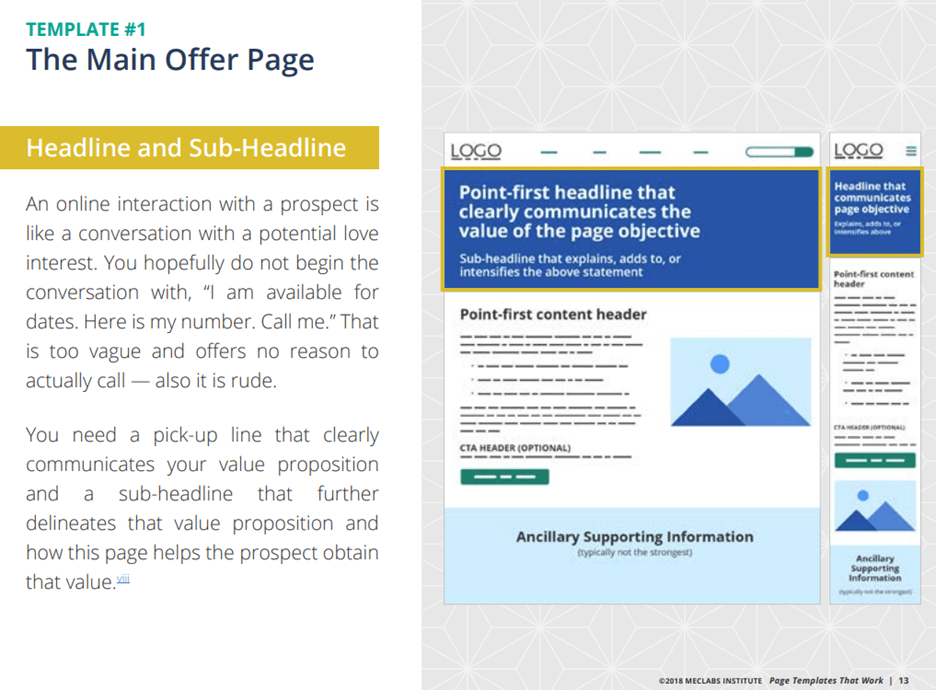 You can follow Daniel Burstein, Senior Director, Content & Marketing, MarketingSherpa and MECLABS Institute, on Twitter @DanielBurstein.
If you are interested in point-first headlines, you might also like…
Copywriting: See immediate lifts by applying these 5 principles to your headlines
Headline Optimization: How testing 10 headlines revealed a 3-letter word that improved conversion more than major changes
Email Marketing: 3 letters to drive subject line success
If you are interested in entry-level marketing content, you might also like…
Marketing 101: What is funnel creation?
Marketing 101: What is PPC in marketing?
The Beginner's Guide to Digital Marketing: 53 articles (and 1 video) to help with onboarding
Categories: Copywriting Tags: Copywriting, landing page