Marketing Career: 52% of all team members share all marketing responsibilities
In the MarketingSherpa 2012 Lead Generation Benchmark Report, we asked 1,915 marketers about division of labor (or lack thereof) in their marketing departments …
Q: How are the responsibilities of your department divided among your marketing team?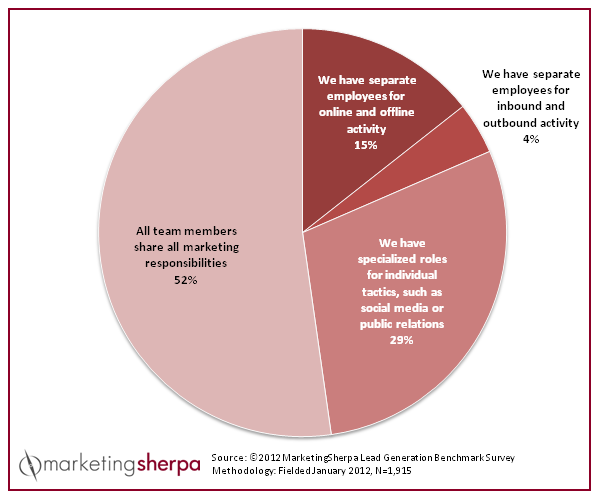 Marketing integration
"The best way to achieve a fully integrated marketing approach is through consistency and working to achieve a common goal – this extends beyond the marketing team into business services, operations, and internal communication," said Erin Miller, marketing, Gantt Huberman Architects.
"I think there should be a healthy balance within marketing teams to share responsibilities, as well as assigning 'trusted advisers' to responsibilities that require more than general knowledge."
Marketing violence
"I wonder if those who are responsible for social media marketing are getting slapped around by Adobe Social until they toe the line," Jeffrey Michaels, Manager of Demand Generation, NETGEAR.
"How does the marketing community feel about the Adobe Social commercials? I find that violence in the work place is offensive and has no place in humor."
If you're not familiar with the Adobe commercials, here's a look at one of them …
There's another Adobe ad where marketers get zapped for using buzzword-laden, non-ROI-related ways to measure their marketing, a la Bill Murray's opening scene in "Ghostbusters."
To Jeffrey's question, I'm personally not anymore offended by the violence in Adobe's ads anymore than I am in a Bugs Bunny cartoon. It's slapstick.
But, I'm not easily offended. And I'm certainly not the arbiter of good taste, so I'll leave it up to you to judge. I respect Jeffrey's opinion, and realize some marketers may overly focus on the violence and overlook Adobe's message.
Whatever you think of the means Adobe used to get there, Jeffrey was very insightful to bring up these ads, because the message behind them strikes straight at the heart of the discoveries of the MarketingSherpa data.
As you can see in the above chart, in 52% of marketing departments, all marketers share all marketing responsibilities. Therefore, it is quite challenging for marketers to be a jack-of-all-trades and understand how to measure ROI in an increasingly complex, multichannel world. And they may be getting (metaphorically) beaten up by their business leaders for this lack of ability to prove a return, or at the very least, are certainly missing out on the budget allocation they could gain with more business-focused metrics.
Adobe claims to have the solution, as do many other vendors and agencies.
If you'd like to be featured in a future blog post, simply sign up for the free MarketingSherpa Chart of the Week newsletter and share your actionable advice on a future marketing industry chart.
Related Resources:
Marketers Get Physically Abused for Social Media 'BS' in Adobe Ad Campaign (via Mashable)
8 Challenges Undermining Your Marketing Team
Sales-Marketing Alignment: 8 tactics from a marketer who has worn both hats
Marketing Management: What is your company doing to increase knowledge and effectiveness?
Marketing Management: Incorporating giving into your marketing department or agency
Categories: Marketing Careers Tags: marketing career, marketing management