You know the typical corporate structure. There are a series of departments that handle discrete tasks and hopefully work efficiently and effectively together to create a greater whole. There's a finance department, human resources department, IT department, production or manufacturing department and a marketing department.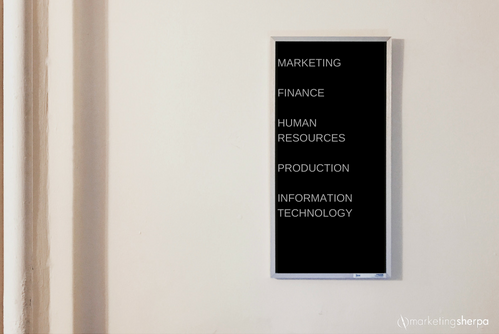 Except, can you really compartmentalize and departmentalize marketing?
Everything a company does is marketing. Perhaps once, marketing was simply the 4 P's — product, price, promotion, and place. Understand the product well enough so you can identify a target market for it, understand the price point they are willing to bear, and then promote the heck out of it in the right place … usually with a heavy emphasis on advertising.
But as Deepa Prahalad says in Why Trust Matters More Than Ever for Brands, "Consumers today are trying and bonding with brands through design touch points and their experiences, not through advertising alone … Advertising and marketing can amplify the success of a great design, but they can rarely compensate for a poor one. Here, trust is a function of the brand messaging lining up with the consumer's actual interaction with the product or service." (emphasis is mine)
(I read this article as a student in the University of Florida/MECLABS Institute Communicating Value and Web Conversion graduate certificate program).
Companies need to "wow" customers with every interaction
And this is why every CEO should have a marketing background. Because almost everything a company does has an interaction with the customer. So almost everything is marketing.
If the IT department can't get the back-end systems right and it goes down when a customer is trying to make a purchase, that's (negative) marketing. If the purchasing department buys wetlands and puts a store on it, that's (negative) marketing. Or if the finance department creates a program to give 1% of profits to charitable organizations, that's (positive) marketing.