Marketing 101: What is a sticky footer?
Marketing has a language all its own. This is our latest in a series of posts aimed at helping new marketers learn that language. What term do you find yourself explaining most often to new hires during onboarding? Let us know.
A footer is the information at the bottom of a webpage. On a traditional website, a visitor would scroll down to see the information at the bottom of a webpage in the footer. However, with a sticky footer (sometimes known as a fixed footer) that information is always present at the bottom of the visitor's web browser as the visitor scrolls down. They do not have to get to the bottom of the page to see it.
For example, the team at Reservation Counter discovered that having the contact center phone number prominently displayed on the website increased orders, so they included it in a sticky footer for their mobile visitors.
The below image from the article Conversion Rate Optimization Case Study: How a travel website doubled website conversion rates in one year points out the places that the phone number was included on the mobile site. The phone number at the bottom of the page is in the sticky footer.
Creative Sample #1: Mobile sticky footer with telephone number CTA
The Infinite Scroll: A never-ending attempt to find the footer
Another website design tactic that has gained traction over the past decade or so is the infinite scroll. An infinite scroll is when more content loads automatically at the bottom of the web browser as a visitor scrolls down a webpage.
Infinite scroll designs were adopted because they reduce the friction of having to click to the next page. This is especially true on a smartphone where it's far easier to continue to swipe than to click on a link or button.
However, most infinite scroll designs essentially remove the footer as a website element since the visitor never gets down to the bottom of the page. Anytime they think they've reached the bottom, more content loads on the page, and the page just gets longer. It's a lot like that dream where you're eating spaghetti — the more spaghetti you eat, the more gets added to the bowl, so you never finish.
This is one use case where a sticky footer can help. By combining a sticky footer with an infinite scroll design, you can reduce friction for the users while still providing the information they would expect from a footer.
Footers add credibility to a website
At this point, you might be thinking "I like my infinite scroll design. The footer was a relic from the early days of the internet. Who needs footers anyway?"
For visitors accustomed to websites designed with footers, the footer can add credibility by providing general information about the company, such as:
Link to about page
Link to contact us form
Link to customer service forum
Link to FAQ
Link for press requests
Phone number
Mailing address
Customer service email address
Privacy policy
Name of the person or company that owns the website (usually accompanied by a copyright)
Link to social media accounts (Pro tip: If you're using a template, make sure you update the icons for Facebook, Twitter, LinkedIn, etc., with links to your accounts. If customers click and get nothing, it only reduces credibility)
Now you might think "my customers never send me postal mail, so why does my mailing address matter in the footer?" Even if your customers don't try to contact you in these ways, simply having a physical mailing address can reduce anxiety for the customer and help them understand that your company is legitimate.
The long landing page
While many marketers try to keep their landing pages as short as possible, fearing that customers simply won't read a long landing page, long landing pages can be effective for some products. Here's an example of a long landing page that netted 220% more leads for an addiction and mental health rehabilitation facility. And here's a long landing page that generated 638% more leads for an insurance call center.
With a long landing page, you don't have the same problem that you do with an infinite scrolling page. Visitors can scroll down and eventually get to the bottom to see the footer. However, if the page is long enough, they may lose patience. So you may want to test a sticky footer. It could help increase conversion by giving them the credibility information they desire. Or it could hurt conversion because it presents a distracting element on the page. The results will depend on how your unique visitors react to your unique products' pages, and they will likely vary by industry, product type and visitor type.
Using sticky footers for CTAs
Up to this point, I've discussed using sticky footers to include traditional footer information at the bottom of a webpage, but you could also use sticky footers for a persistent call-to-action (CTA) that remains along the bottom of the page for every page on a website visit, or perhaps just the first webpage your visitor sees. The sticky footer might have an email opt-in box, discount information with a coupon code, or maybe a link to another landing page on the website.
Here is an example of a sticky footer CTA. The CTA is "Get a Free Download of the MarketingSherpa E-commerce Benchmark Study" and the CTA button copy reads "Download for Free."
Creative Sample #2: Desktop sticky footer with download button CTA
For mobile versions of your website, keep in mind how much screen real estate the sticky footer will take from the viewing experience. It's also usually a good idea to give visitors an opportunity to close the sticky footer so they can get the screen real estate back if they so choose. Without that option, they may decide to just leave your site.
When adding a sticky footer, it can help to add motion to draw the visitor's eye to it. For example, while writing this article, I participated in a status call with a MECLABS Institute conversion marketing services client (MECLABS is the parent organization of MarketingSherpa).
On the call, one of the ideas for mobile the MECLABS team presented was "Add button to sticky footer for 'CTA copy goes here.' Sticky footer slides up into a brief product introduction, and provides links to send a message or book a call."
Other sticky stuff
Footers aren't the only thing that can be sticky on a website. You can have a sticky header as well. For example, on the MECLABS Institute website, we have a sticky header for navigation (also known as a sticky nav).
When you first visit a webpage, the header looks like this:
Creative Sample #3: Traditional header and navigation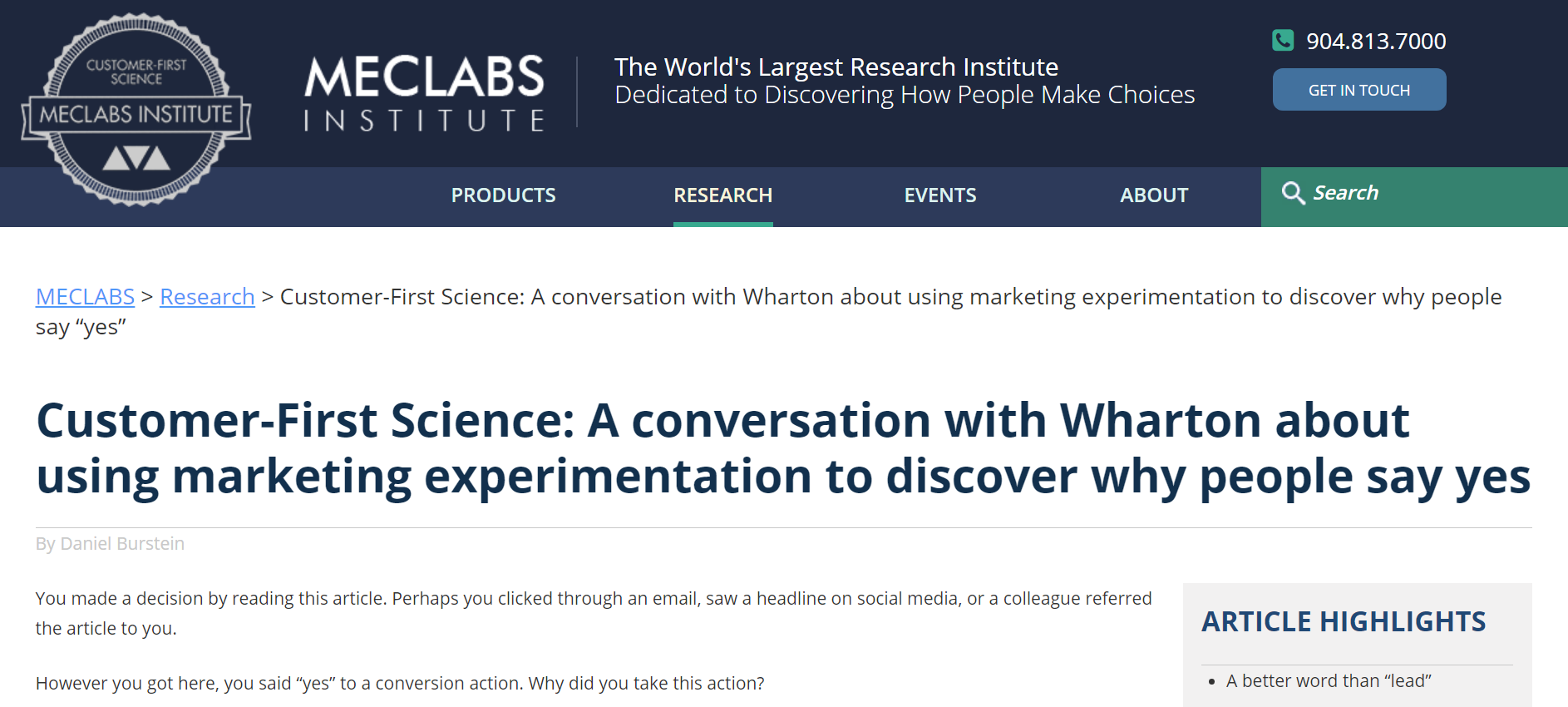 As you start scrolling down, most of the header disappears, but the navigation elements stay at the top of the page as a skinny bar.
Creative Sample #4: Sticky nav header
Much like with the sticky footer, a sticky header can be used for a call-to-action, a tactic we use in the below example from MarketingExperiments (MarketingSherpa's sister publication).
Creative Sample #5: Sticky header banner ad with CTA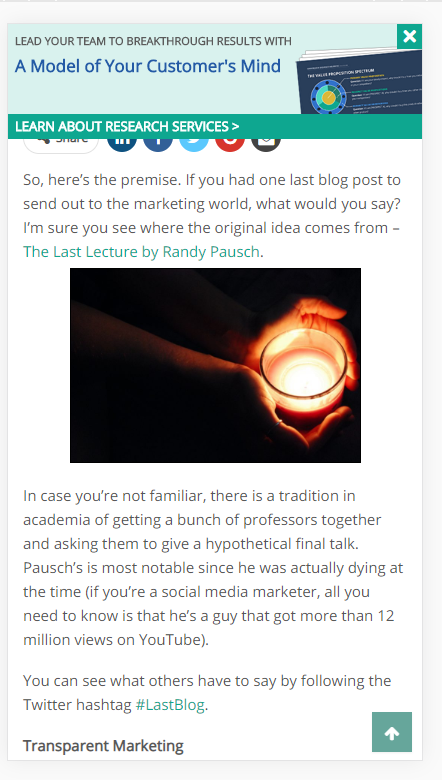 And if that isn't enough stickiness for you, you can even add sticky elements to the sides of your webpages. For example, the below website has a "REVIEWS" button on the left-side of its homepage that follows you down the page when you scroll. If you click on it, it takes you to a page with reviews of the company's product.
Creative Sample #6: Sticky side button on website
You can follow Daniel Burstein, Senior Director, Content & Marketing, MarketingSherpa and MECLABS Institute, on Twitter @DanielBurstein.
You might also like …
The Beginner's Guide to Digital Marketing: 53 articles (and 1 video) to help with onboarding
The 21 Psychological Elements that Power Effective Web Design (Part 1)
Landing Page Optimization on-demand certification course from MECLABS Institute — Designed to help teach you the science of landing page optimization without the cost of hiring an expensive consultant
Categories: Marketing Tags: marketing 101, marketing onboarding, marketing terms, onboarding, sticky footer, webpage design, webpage UX