Marketing Management: Are agency creative reviews killing customer response?
"Practice like you play."
This truism rang in my ears as I reviewed one of the videos slotted for MarketingSherpa Email Summit 2014.
I was reviewing the video on a big screen in a conference room during a meeting as we prepared for Summit, and a key quote in the video was washed out and hard to read.
I realized I had made a mistake by previously reviewing the videos on my own monitor or the crystal clear monitors our A/V team uses.
However, the audience was not going to see the video on an LCD monitor 12 inches from their face. They were going to see it from a giant projector in a cavernous room at the Aria Resort & Casino Las Vegas.
How do you review agency creative?
This also got me thinking – how many marketers review agency creative the way prospects will receive it?
I'll give you an example from my own time working at an agency.
When we presented print ads, we blew each ad up as big as possible and mounted it on a black board to really make it pop.
Then, we presented the ad with no distractions in a conference room.
The people reviewing them were marketers for the company, obsessed and excited about every tiny detail of their product.
How do potential customers perceive your marketing and advertising?
Of course, potential customers never received the ad this way. The print ad was just one of many in a Wall Street Journal filled with competing ads, screaming headlines and political coverage.
On top of that, the reader was going through the paper on a busy train, or with kids fighting in the background.
No one, except the marketers we presented to, ever saw the oversized ad in a distraction-free environment.
How do you grab the attention of someone who doesn't care?
I'm not picking on agencies here. This also holds true if someone inside your company, like my first example, created the work.
Creatives, marketers, account executives – we want to present our work in the best possible light. So it makes sense that we blow it up and show it on super sharp monitors.
But if you really want your marketing to stick out, break through the clutter and be different from the crowd, here are a few questions you can ask the next time you are presented with creative to review.
1. Did you buy the newspaper or magazine you're designing ads for? How will the paper quality (glossy vs. newsprint vs. poor-quality newsprint) affect the ad? How does the ad look, at its real size, placed in the publication?
2. I prefer not to see these banner ads in isolation; can I see them on a few of the websites they will be placed on?
3. How will the customer view this website? It may not be on an Internet connection as fast as ours, on a computer as powerful as ours, and it certainly won't be on a computer as powerful as the ones developers and designers use. How does the website render and load on an older computer with a smaller, lower-resolution screen and with a slow connection?
4. Same goes for any mobile emails or mobile sites: Do customers have the greatest and newest smartphones and tablets? If not, how will sites render and how quickly will they load on slower devices? On 3G?
5. What compatibility issues will exist? How will this website look if they don't have Flash? How will this email look if images are blocked?
6. If the audience is older, can they read type that small in a brochure, postcard or on a website?
7. Will our TV commercial or online video be able to convey any information if it is muted? Should we leverage more text to make sure it does?
8. This PowerPoint looks good on my screen, but how will it look to an audience of a thousand people? (Hint: Make the text bigger than you think you should, you can see my own error below.)
What you see when you review
What your audience sees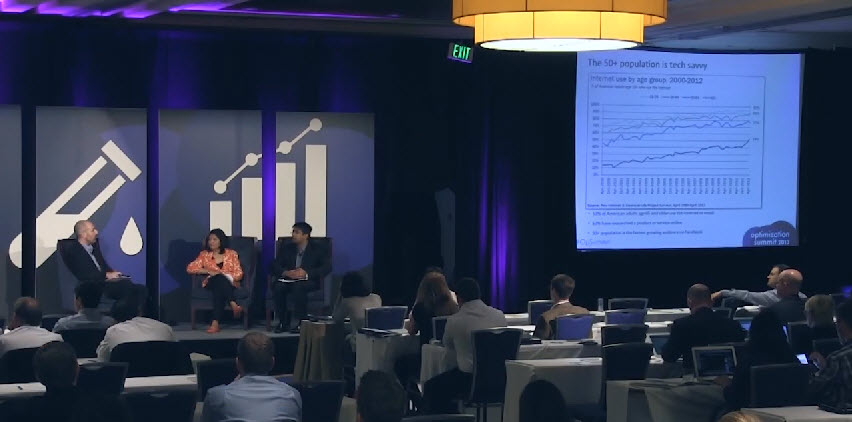 I'd love to hear you share your tips as well. How do you review marketing creative? What do you do to put yourself in the customer's shoes?
Do you engage in copy testing, campaign pre-testing or other advertising research, or do you approve marketing campaigns based on your own opinion? If so, how do you decide?
You may also like
Project Management: Communication is the lost currency of business [More from the blogs]
Online Advertising: How your peers optimize banner ads [More from the blogs]
Content Marketing: 9 examples of transparent marketing [More from the blogs]
Content Marketing: Interviewing internal resources [More from the blogs]
Digital Optimization: How AARP Services increased referrals and membership renewals [Optimization Summit 2013 replay]
Categories: Marketing Tags: advertising, content marketing, display marketing, marketing careers, Media Buying, offline marketing and advertising, print marketing, video content