What is personal branding?
A personal brand is an expression of a value proposition.
It is a powerful message that clearly articulates who you are, what you do and how you create value.
When applied to social media, a personal brand creates a memorable first impression that entices visitors to connect with you. When using LinkedIn, a brand message should be the professional version of your value proposition. This brand messaging should be consistent throughout your profile and capture the attention of your visitors.
Here are some tips to establishing a personal brand on LinkedIn.
Step #1. Personalize your URL
In LinkedIn, you have the ability to personalize your public profile URL. A personalized URL is essential to establishing your personal brand as it is not only friendlier from an SEO perspective, but it allows for people to find you more easily.
Here are the steps to personalize your LinkedIn URL:
Log in to LinkedIn.
Move your cursor over Profile at the top of the page and select Edit Profile.
Find your current URL under your profile picture and click Edit.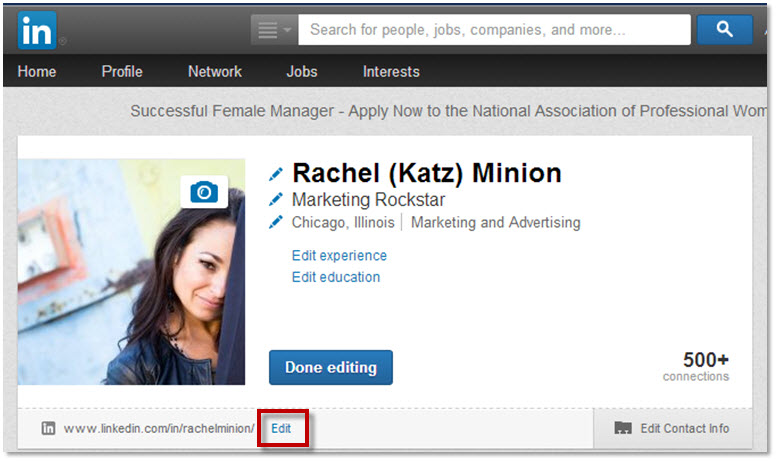 In the Your public profile URL box in the bottom right, click Customize your public profile URL.
Enter your new custom URL in the text box.
Your custom URL can have between five and 30 letters or numbers.
Do not use spaces, symbols or special characters.
You cannot change your URL more than three times in six months.
If the URL you want isn't available, don't give up. Try adding numbers to the end of the URL or slightly changing the text.
Click Set Custom URL.