Marketing 101: What are microsites? (plus 3 successful microsite examples and 2 missteps)
Marketing has a language all its own. This is our latest in a series of posts aimed at helping new marketers learn that language. What term do you find yourself explaining most often to new hires during onboarding? Let us know.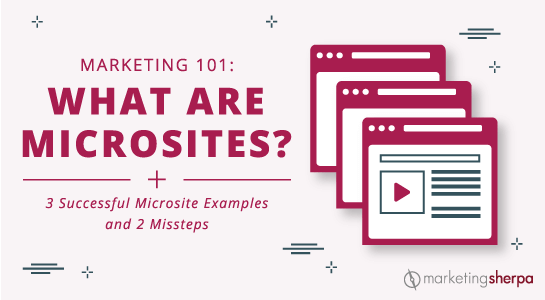 Microsites are somewhere in between a single landing page and an entire website. They are small, special-purpose websites for a single, dedicated communication (and conversion) goal set up by companies that already have a full site. They work well for the communication of an idea or product that requires more than a single landing page, for example, an event.
Successful microsite creation requires a clear goal and focus for the microsite and should be built from the ground up optimized for achieving that goal.
Here are a few tips to help you use microsites.
Tip #1: Tightly tap into visitor motivations
Microsites can be more focused on an ideal customer subset than a company's overall website that often must serve multiple audiences. For that reason, microsites can be used to create a more forceful prospect-level value proposition.
For example, MECLABS Institute (parent organization of MarketingSherpa) was engaged in conversion marketing services for a national land and home sales organization for consumers. The company had microsites for individual communities.
In an A/B test of a community's microsite, the control offered a community guide to prospects and used sales-oriented language like "… learn why [community name anonymized] is Paradise Found."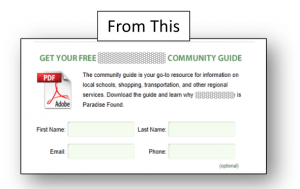 The treatment offered a community map to prospects and a more helpful tone. The map was described as something that would help prospects. "Be prepared for your visit to …"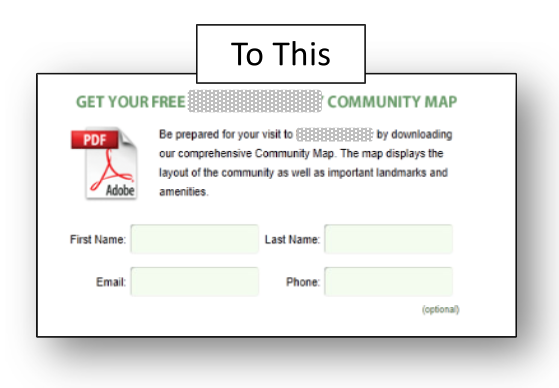 By better tapping into the motivations of people interested in visiting the community, the control produced a 326% increase in conversions.
Tip #2: Use microsites to target specific locations to garner local search
A large brand that sells warranty and car servicing options was performing well on keywords for the United Kingdom as a whole, but there were towns with service garages where the brand was off the top of the search rankings.
The team at agency DFY Links built three microsites for their client's least competitive towns — Bath, Chepstow and Swindon. There was a similar technical setup to the main site, but with a heavy focus on the town, and the team went to work building links to these microsites every month. The team chose microsites because any increased effort to help the main site rank in certain areas would dilute the UK search and also reduce rankings in other local areas, according to Brett Downes, SEO Specialist, DFY Links.
"Within a year, Chepstow and Swindon sites featured in [spots] one to five on SERP (search engine results page) results for 90% of keywords we were targeting," Downes said. "Bath was slightly different, as competition was higher and the other sites had a lot more backlinks. However, we did rank on page one for 50% of [keywords] we were targeting, with around 10-20% ranking in position one to three, especially on long-tail keywords."
The sites also appeared in the local map pack, the listing of nearby businesses that appear under a map on the main SERP.
"The microsites were minimal in code and very simple. Having a lean site ensured we would have a very fast-loading website, as speed has become more of an important ranking factor (especially on mobile) this has given us the advantage [over] local, bloated sites," Downes said.
The microsites were completely different sites, not subdomains or subfolders. Local businesses they were competing against usually had less than 50 referring domain links, so the team knew they could match the best competitors within six to nine months of link building.
"We could have used the extra budget and created subfolders on the [main] site and had targeted sections for different locations. This may have diluted the main site; plus with the microsite, the assumed location managed to qualify us for proximity searches," he said.
However, your business may have a very different competitive mix and that can affect how you consider your URL structure, so read the next tip …
Tip #3: Consider URL structure
If you have an established website, and organic traffic is a goal of your SEO strategy, keep your URL structure in mind. For example, when we created a microsite for MarketingSherpa Summit 2017, the URL was MarketingSherpa.com/Summit2017, not a separate URL like MarketingSherpaSummit2017.com.
"I was involved in a microsite (where the distribution strategy was going to be SEO) for a specific city for a property management company — and when I was first asked to do the site, I wasn't as involved in the strategy because it was a big company, and I figured it would pay to just go along with the flow. Cut to $42,000 and a year and a half later, and the site wasn't ranking nearly as well as if it was on the main site," said Cody Warren, SEO Specialist, Hook Agency.
Warren continued, "Frankly this isn't a cautionary tale about microsites in general, but rather – using separate domains when a subdomain or subfolder would allow you to use some of the domain authority of your main site for SEO purposes. We ended up 'sewing back on' the separate domain in the form of a subdomain, and the ranking issues quickly were helped, and I wish I had pushed the issue more intensely, sooner."
If your strategy is to entirely drive paid traffic to the microsite (e.g. paid search ads, newspaper ads, etc.), the URL structure will be less important.
Tip #4: Create original content for microsites
Another SEO challenge you may have to overcome with a microsite is duplicate content.
Pavilion Broadway launched microsites for luxury brands Jonathan Charles Furniture and Theodore Alexander.
"It was a difficult decision on whether to just consolidate all products into our main site or operate two separate microsites independently. The challenge was this — could we integrate large collections with very differing styles cohesively into our main product range? We decided that from a merchandising perspective, the look and feel of many products within these two brands was too disparate for us to host their whole range on our main Pavilion Broadway site, and microsites would allow us to do each brand's range and story justice," said Nathan Thompson, digital marketing, Pavilion Broadway.
To tackle the duplicate content issue, the furniture and home accessory company hired a new copywriter to work on a totally distinctive brand tone of voice for each site that encapsulated the brand heritage of each and was a big departure from the main Pavilion Broadway copy. "This unique content would allow each site to rank independently of our main retail site," Thompson said.
Since launching the microsites in mid-June, the microsites have received 6% more new visitors than when the brands were on the main site. "This continues to grow at a rate of approximately 15% per month on average, and we expect this to compound over time," Thompson said.
Tip #5: Balance content management flexibility with consistent and clear communication with the customer
For some companies, making changes and updates to the microsite isn't a major consideration because it's done by the same team that manages the main website.
However, for a company with a franchise business model, the ability for a wide number of users (in this case, franchisees) to update the microsites might be an important element of the microsites.
There isn't one right answer for how to address this challenge. Companies need to find the right balance between empowering franchisees to create content while managing their own microsites and maintaining consistent brand experience and value proposition communication through corporate control of the microsites and overall website.
Lendio faced this challenge. An external agency designed microsites for local franchise owners using the WordPress CMS with a customized dashboard that had a login outside of the WordPress admin panel. This allowed for Lendio's team to quickly create new microsites and let franchisees edit their page description, contact details, and biographic information themselves.
"As the franchise program grew, it became apparent that the microsites lacked the features, design, and CX (customer experience) necessary to actively engage a [visitor]," said Kari Harper, Events Marketing Manager, Lendio.
Here are some of the challenges the original microsites had for the small business loan marketplace:
Limited borrower resources and minimal information about Lendio in general
The design deviated enough from corporate brand standards to create a disconnect and caused user confusion
No direct link to the main website which added to this confusion
The Lendio team created a new microsite structure and made a key tradeoff — less franchisee control but a consistent experience for the visitor.
"The multi-user access has been removed since the nature of the content written does not require frequent updates. This allowed for significantly more flexibility on the development team's behalf," Harper said.
The new microsites feature:
The main site's header and footer allowing visitors full access to all of Lendio.com's resources directly from the microsite to help educate visitors while ensuring brand consistency
Improved website navigation
In addition to communicating with potential borrowers, the new pages also promoted the franchise program to recruit new owners
Consistent showcasing of existing owners and their local office, encouraging potential borrowers to contact the local office
"We have seen franchisees now actively promoting [the microsites] and directing users to them. This is not something they were doing before the change, as the old sites were not benefiting them directly from a promotional standpoint," she said.
You can follow Daniel Burstein, Senior Director, Content & Marketing, MarketingSherpa and MECLABS Institute, on Twitter @DanielBurstein.
You might also like …
Get a conversion-focused microsite created for your brand by MECLABS Institute (parent organization of MarketingSherpa)
Microsites Tested: Recent experiments reveal 2 common design mistakes that can kill microsite conversion rates
Online Testing: Microsite A/B split test increases lead rate 155%
Categories: Marketing Tags: conversion marketing services, customer experience, cx, DFY, domains, duplicate content, furniture store, Hook Agency, Jonathan Charles Furniture, Lendio, loan marketplace, marketing 101, microsites, Pavilion Broadway, property management, real estate, SEO, subdomain, subdomains, subfolder, Theodore Alexander, United Kingdom, Value Proposition, website design