Social Media Marketing: When your product delights your customers, customers will help sell it
Where does social media success begin? In many cases, it begins well off of an online platform like Facebook or Twitter. It begins with a valuable product.
Cambria Jacobs, Vice President of Marketing, Door to Door Organics, sat down with me to discuss the natural and organic grocery company that sells entirely through ecommerce. She shared how it started with a valuable product that customers loved and built off that base to grow its social media fans more than 600% in less than 18 months.
Start by producing share-worthy products
"We were really proud of getting our hands on the best organic produce. We weren't necessarily looked at or aspiring to become this strong ecommerce player with a really strong technology savvy. And what has grown, being a pure ecommerce player, is our customers were finding us on social media," Cambria said.
The product itself had enough appeal that it spurred a passionate base audience organically promoting it to friends, family and connections on social media.
"We had organic visuals that were popping up on Instagram and Facebook before we even had a presence on Instagram — just our customers taking photos of their box and of their delivery," she said.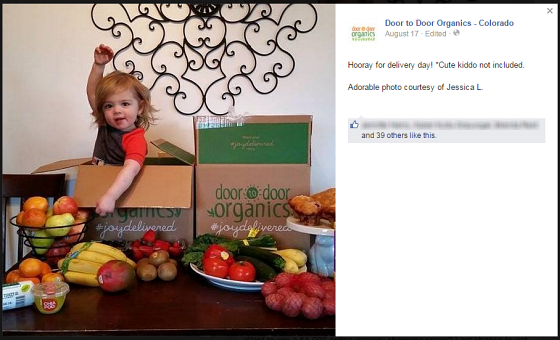 Identify the right social platforms
I am often asked if a brand should be on Facebook. Or on Twitter. Even though Facebook has monstrous engagement and reach compared to other social media platforms, it might not be right for your company.
The real question you have to ask is — what social media platforms are my customers on and do they want to engage with my brand on that platform?
When Cambria joined Door to Door Organics, the company did not have a social strategy. So first she identified the target customer, which social networks they were on and which social networks they were discussing Door to Door Organics on.
She brought on a dedicated social media resource to drive engagement and revenue through these social platforms.
When establishing brand accounts on Facebook, they followed a local strategy, with different brand accounts for different areas served — for example, Kansas City and Des Moines or Colorado.
Amplify the message
Through content promotion and social media advertising, Cambria's team grew engagement and follows on these targeted platforms and turned the company's tagline — Joy Delivered — into a hashtag and thematic campaign element.
"We've been able to harness a lot of that content that was out there, and actually do contests to have people — what brings them joy in their life? What is 'joy delivered' to them? And it can be our food, but it can also be the smile on their healthy child's face or it can be at the soccer game," Cambria said.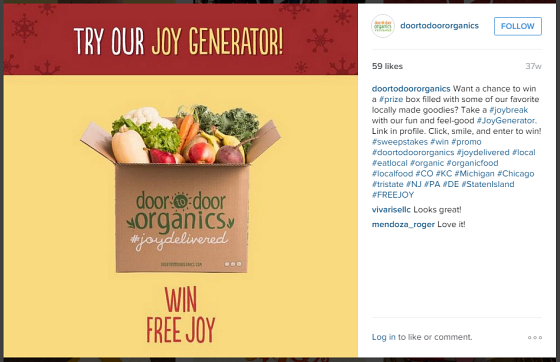 Create content to grow audience
Door to Door Organics has been growing it's following from a niche group of passionate customers to a more mainstream audience.
"The natural and organic buyer is becoming more mainstream so we're certainly crossing that chasm into a bigger market, and education is critical," Cambria said.
Her team deepened the connection to its brand through digital and visual storytelling about its local farmers and artisan food producers with, for example, farmer trading cards, as well as publishing value-added educational content such as recipes, promotional offers and time-saving food and shopping tips.
Don't forget to be social
The team also provided an accessible outlet for customers to share issues related to their delivery and the company's service.
This is, after all, fresh produce. And organic produce at that. Unlike, say, electronics or clothes, by the time it reaches the customers, there may be issues with the product. Addressing them proactively, along with any other customer questions, has been core to building a solid relationship with followers.

In addition, the human element is very important to Door to Door Organics brand, according to Cambria.
"It's what makes Door to Door Organics truly a differentiated brand. We're not just a pure ecommerce online grocer; we're much more than that. And the joy aspect of that emotional connection, since we are delivering all the way to the customer's door, we feel that we are part of their family," Cambria said.
Social media's impact on company success
"Our customers have become, truly, some of our best salespeople," Cambria said.
Not only has this advocacy been seen in the company's social media metrics — for example, it grew from 80,000 fans to more 300,000 fans with an engagement rate of 35% on Facebook — more bottom-line-oriented metrics show this success as well.
Social media now accounts for between 10 to 20% of all new customer acquisitions. Customers now frequently cite social media as the number one way they learned about the company. And the company's success helped it land $25.5 million in a Series B round of venture-capital funding to expand further.
You can follow Daniel Burstein, Director of Editorial Content, MarketingSherpa, @DanielBurstein.
You might also like
MarketingSherpa Summit 2016 in Las Vegas, February 22 – 24 (Cambria Jacobs will be presenting a case study entitled "How an Online Organic and Natural Food Retailer Grew Its Social Media Fan Base 600% in 18 Months")
Field Marketing Chart: Types of events that elicit the most branded photo social sharing [From MarketingSherpa]
The e-grocery explosion (by Allison Enright in Internet Retailer)
Combining Social Media and Event Marketing: Year-round effort boosts clickthrough 236% [From MarketingSherpa]
Categories: Marketing Tags: ecommerce, facebook marketing, Inbound Marketing, IRCE, social media