Marketing 101: What is social listening?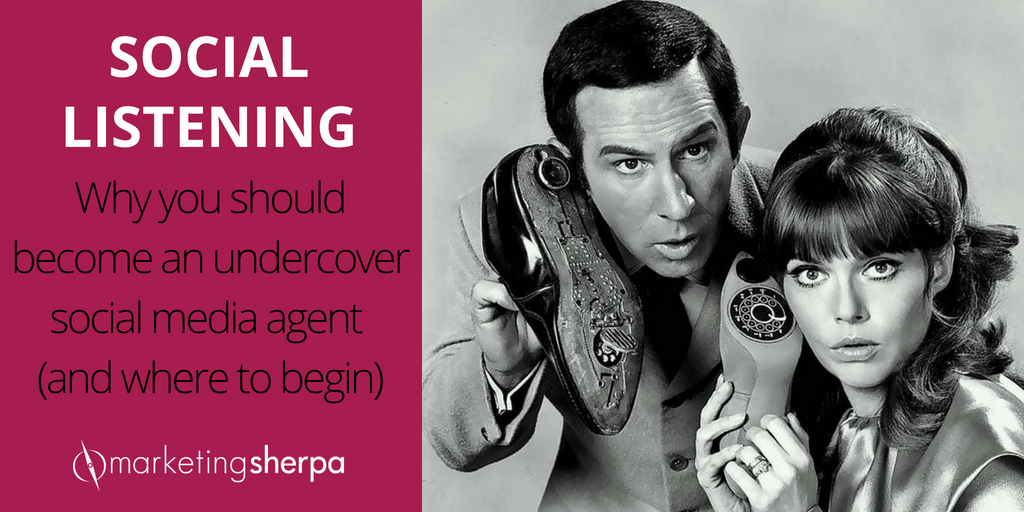 Marketing has a language all its own. This is our latest in a series of posts aimed at helping new marketers learn that language. What term do you find yourself explaining most often to new hires during onboarding? Let us know.
In the early 2000s when social media networks like My Space and Facebook first came out, many of us thought they were just a passing fad. We were wrong.
These social networks have been so successful because people are hardwired to be social. And they want to share on social platforms.
Then businesses began to realize that customers were reacting more positively toward this gentler inbound strategy as opposed to the traditional, more aggressive outbound methods. Today, social media marketing is a vital part of most companies.
Yes, social media marketing is here to stay, and statistics show that it reigns as king of the mountain in the business world, being one of the most widely used lead gen tactics.
Most Widely Used Lead Gen Tactics
If you have been trying to avoid learning hashtag lingo, retweet etiquette and analytics, then chances are your business won't last long among its many competitors. Because THEY most certainly are utilizing social platforms to their advantage. You, on the other hand, are trying to execute your business strategy blindfolded.
Some benefits of social listening
Even if your business doesn't have the budget for a dedicated social media analyst or the latest and greatest social monitoring tools, you can still go ahead and set up some accounts. Twitter, Facebook and LinkedIn are some of the most popular ones but you should conduct some sleuthing to determine which social media platforms are the best fit for your ideal customer.
If you identify the right social networks, you will likely find that your customers were there before you. "We had organic visuals that were popping up on Instagram and Facebook before we even had a presence on Instagram — just our customers taking photos of their box and of their delivery," said Cambria Jacobs, Vice President of Marketing, Door to Door Organics.
You will want to begin finding ways to promote your product or service, but honestly, what works in our everyday social interactions with family and friends also works in social media. It simply is this:
First, become a good listener. Because good businesses care about their customers.
Also, learning what target customers aren't telling you directly can be extremely valuable to your marketing efforts, providing critical insights. Like this tweet that popped up in my feed from a customer who gave a negative review of a hotel she stayed at because it double-charged her, but she put in a good word for Priceline's customer service that saved the day.

Here are some other benefits of social eavesdropping:
Target your messaging to emphasize the solutions you provide or the value you offer.
Find out what questions people are asking and searching for.
Identify whether or not your value proposition aligns with what the market has shown.
Discover missed opportunities and niche topics that your company may be overlooking.
Gain insight into what is working (and what is not) in your industry by listening to what people think of your competitors' actions.
Essentially, this undercover detective work reveals what is important to your audience and shows you how to best communicate with them.
Social monitoring tools and techniques
There are many tools to help you monitor social platforms, but if your budget is tight, you can simply begin with manual searches. For example, searching Twitter's website and its free, automated TweetDeck social media dashboard application. You can also set up Google Alerts with keywords and phrases for mentions on websites and blogs. Begin with your brand and product offerings and move out from there to more general industry terms.
Your social knowledge base will evolve over time, but here are some good starting points for searches:
Your brand's social media account handle(s)
Your brand name and slogan
Your product names
Key hashtags and words customers might use to describe a problem your product solves
The CEO of your company and names of other key people
Event names or keywords
Industry buzzwords
Common misspellings
Alternatively, you can search for the above items using your competitors' keywords.
The recurring theme here is listen, listen, listen to your customers. Without them, you don't have a product.
After you have become a good listener, you can use what you have learned to inform your social postings. Now you can become more active in the world of social media, joining the conversation with clearer vision and focused messaging.
This article was informed by the MarketingSherpa Quick Guide to Lead Generation: 8 content, social media and webinar tactics to boost lead volume. If you'd like to learn more about how to take advantage of social media opportunities, you can download our free resource.
You might also like …
Social Media Marketing: 4 steps to identifying the ideal social media platform for your company
Social Media Marketing: How a small e-commerce site attracted 293,000 Facebook fans
B2B Lead Generation: 6 social media tactics from 7 experts
Categories: Social Media Marketing Tags: Consumer Marketing, customer-centric, inbound, lead generation, social media