We frequently receive questions from our email subscribers asking marketing advice. Instead of hiding those answers in a one-to-one email communication, we occasionally publish edited excerpts of some of these conversations here on the MarketingSherpa blog so they can help other readers as well. If you have any questions, let us know.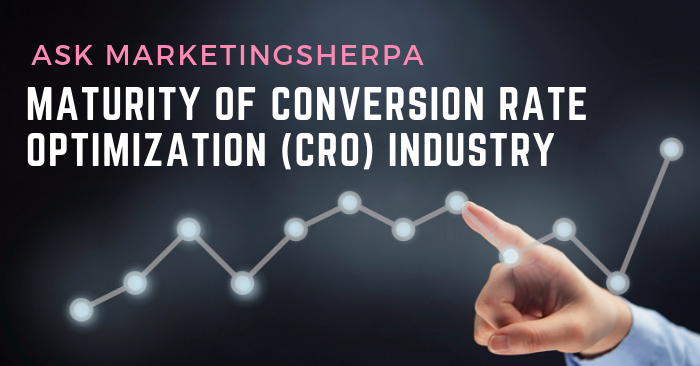 Dear MarketingSherpa: Hi there Daniel,
I quite like the sequence you have built, it's quite relevant and well refined.
With regards to the personal note, very well done. I am guessing you get a mixed bag from this one.
I would like to ask a question, in your opinion, where do you think CRO is in the adoption lifecycle?
As an industry/set of processes do you think it is still early days or are we nearing the end or somewhere in the middle?
From: Kaleb Ufton, Director of Technology and Digital Marketing Strategy, EKOH Marketing
MarketingSherpa responds: The sequence Kaleb is referring to is the welcome email drip sequence, which includes emails written with a direct and personal tone, that marketers receive after subscribing to the MarketingSherpa email newsletter.
But then he asks a thoughtful and provocative question about conversion rate optimization (CRO). If you've read previous Ask MarketingSherpa columns, you know they are usually how-to questions about topics like value proposition communication or finding clients.
Kaleb's question is more challenging. It essentially requires the ability to predict the future. I needed a little help with this one.
Fortunately, I work every day with one of the pioneers of the conversion rate optimization industry—Flint McGlaughlin. So I walked down the hall to get his take on this question, and here's what he had to say …
Moving away from just testing pages to testing for new products
I think CRO is in the advanced segment of the first stage and beginning to move into the second. I'll explain:
When we began our research, no one had a conversion budget; there was no one to hire to do conversion work. There was no training available for conversion. Now companies everywhere hire conversion optimization experts and are testing, but they do it very poorly. Stage 1 has matured to the point where it has become a common practice, but the quality of the execution is definitely lacking.
Tests are often run with major validity errors that no one detects. The testing tools are still primitive, and the biggest problem in the industry is that people don't know what to test. Having a tool doesn't help you if you don't know how to really use it. So I think we are in the advanced segment of Stage 1, and Stage 1 would represent the general adoption of conversion optimization. Clearly some industries are far, far beyond, but in general, things have advanced significantly.
Now, how far do we have to go?
We have a long way to go. Conversion as it relates to personalization is not even close to being executed properly. The next phase in conversion will come through the advanced development of existing technologies. AI (artificial intelligence) is making big promises but delivering far less in practice. There will come a time when it can do more.
In addition, conversion is moving away from just testing pages to testing for new products and also testing for entrepreneurial software rollouts (full stack testing). These are new fields with greater opportunity. I think there is a stage coming where the practice moves to new areas, and then there is a stage coming where technology makes new possibilities.
— Flint McGlaughlin, Managing Director and CEO, MECLABS Institute (parent organization of MarketingSherpa and MarketingExperiments), and author of the book The Marketer as Philosopher
Since this question requires essentially making a prediction, I wanted to leverage the wisdom of the crowds and get a few other opinions as well from your marketing peers and CRO practitioners. So here are some other thoughts on the state of the CRO industry …