I've been put in the audiences' shoes a little more than usual this month. My idea, The Tomato Upstairs, has been chosen as one of five finalists in a national idea program. And since there is daily voting on the ideas until November 26, I've been promoting and marketing away to get some votes.
One thing I did was create a t-shirt to sell on the site, with proceeds going to a worthy cause. I created these sites and helped the cause open a store on CafePress.com, an online retailer of stock and user-customized on-demand products.
Then, something really caught my eye …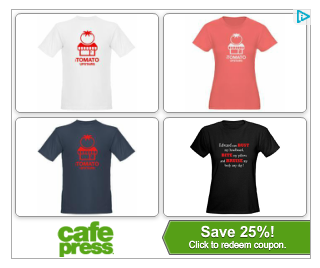 Like you, I see retargeting ads all the time. In fact, I've jokingly talked about them this way … "I visit your website once, and you stalk me across the Internet for the rest of my days."
However, these ads really caught the attention of even my keenly skeptical eyes. After all, they were showing shirts that I created.
So, I reached out to Sumant Sridharan, VP & General Manager, CafePress.com, to get a quick background about the site's retargeting efforts, and thought you might find these insights helpful for your own efforts …