Online Advertising: Retargeting drives 3% to 7% in incremental topline revenue for CafePress
I've been put in the audiences' shoes a little more than usual this month. My idea, The Tomato Upstairs, has been chosen as one of five finalists in a national idea program. And since there is daily voting on the ideas until November 26, I've been promoting and marketing away to get some votes.
One thing I did was create a t-shirt to sell on the site, with proceeds going to a worthy cause. I created these sites and helped the cause open a store on CafePress.com, an online retailer of stock and user-customized on-demand products.
Then, something really caught my eye …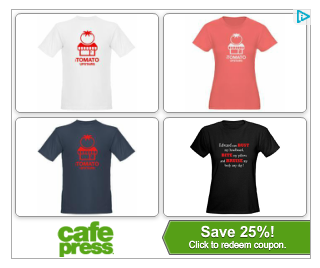 Like you, I see retargeting ads all the time. In fact, I've jokingly talked about them this way … "I visit your website once, and you stalk me across the Internet for the rest of my days."
However, these ads really caught the attention of even my keenly skeptical eyes. After all, they were showing shirts that I created.
So, I reached out to Sumant Sridharan, VP & General Manager, CafePress.com, to get a quick background about the site's retargeting efforts, and thought you might find these insights helpful for your own efforts …
MarketingSherpa: Why did CafePress start using retargeting banner ads?
Sumant Sridharan: With over 11 million unique visits a month, CafePress sees significant traffic coming to the site looking for unique custom gear and gifts. Since over 95% of our visitors to our site do not make a purchase initially, retargeting allows us to remind these individuals of the great products they originally discovered on CafePress.
MS: What have you found to be most effective in terms of retargeting?
SS: Since our goal is to convert, we find that a direct call-to-action and highly relevant ads drive optimal performance. Our dynamic ads display products that visitors recently viewed on CafePress, producing clickthrough rates that are substantially higher than those generated by static ads.
MS: Least effective?
 SS: We have found that simpler is better. Rich media ads are routinely outperformed by more straightforward ads that showcase our product and offer.
MS: How do you measure the effectiveness of your remarketing?
SS: Attribution for remarketing is non-trivial, as many users that an advertiser targets would have returned in any event to make a purchase. We attempt to derive true instrumentality by continuously testing segments of users who have seen retargeted ads vs. those who haven't.
Since we have over 400 millions products, we also had to work with our retargeting vendors to create a solution that can accommodate a long-tail experience.
MS: Can you please share some results and metrics from your campaigns?
SS: We believe successful remarketing campaigns in most instances will drive 3% to 7% in incremental topline revenue (varying by retailer type and other factors). Remarketing drives significantly higher clickthrough rates and conversion rates than standard display advertising, while also delivering qualitative brand benefits.
Related Resources:
Social Media Marketing: A look at contests from the customer's perspective
Online Behavioral Advertising: How to benefit from targeted ads in a world concerned with privacy
Email Marketing: New tactics for display ads, segmentation and discount promos
Online Advertising: The 3 obstacles you must overcome to create an effective banner ad
Categories: Online Advertising Tags: behavioral targeting, display advertising, e-commerce, Online Advertising, retargeting