Ask MarketingSherpa: How do small businesses find clients?
We frequently receive questions from our email subscribers asking marketing advice. Instead of hiding those answers in a one-to-one email communication, we occasionally publish edited excerpts of some of them here on the MarketingSherpa blog so they can help other readers as well. If you have any questions, let us know.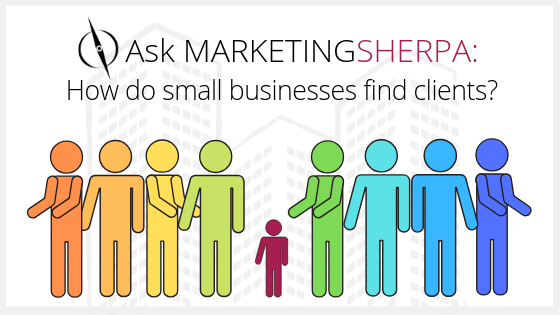 Dear MarketingSherpa:  I have a question for you. In this ever more increasing digital age — where pressing palms and getting face time is getting harder and harder. How do small businesses find clients?
I am a graphic designer/marketer whose business model is to contract with other small businesses. Much like a General Contractor hires subs when they build or remodel a house.
When I get together with other contractors in the marcom field (web designers, marketers, other designers, branding specialists, etc.) the first question is generally 'So, how do you find new clients?" The answer is generally referral, but that only provides so much to the pipeline.
We don't have trade shows where the public can come in and meet us and get to know what options they have in terms of marketing their small business (like a home and garden show where the public comes in and meets the companies that offer home improvement — and all the new tech that goes along with it).
Our local AAF chapter did one about 7 years ago. It was poorly attended and never repeated. I presented. It was a fabulous idea.
We don't have a Marketing Channel where people ooh and ahh over the latest couple who comes into businesses and turns their branding around and makes it all shiny and new and hands them a marketing plan and clients ready to purchase.
Marketing is the slow burn and a mystery how some succeed and others don't. People like Shark Tank because it's a Cinderella story — where the prince bestows upon them the money they think they need to succeed. Success overnight!
Everyone thinks it's social media — but really that's just more ad buys. And it's left to the algorithm to determine how successful you are.
So how do small businesses that are in service industries especially find new clients? Sure we all know to go where our audience is, but our audience/ideal clients are in front of their computers looking for their own ideal clients. Or on the job, or at shows selling their own goods. They don't scroll Instagram looking for business advice. They aren't on Facebook reading funny memes. Generally. I mean they are definitely on their phones though.
I'm interested to hear your thoughts on the matter. I mean even your own website when it gives examples, it's usually really large companies with really large budgets and a full agency behind the A/B testing and research and metrics. Not really applicable on a smaller scale, in most instances. Even people that know they need to content market are buying their content, not generating it themselves or through an agency (buying it from a service that caters to their industry).
OK — thank you for listening, and we all await your response.  🙂
Thanks!
Deanna Taus
Owner
Full Circle Creative, LLC
Dear Reader:  Hi Deanna, Thanks for reaching out.
We get this question quite often from small businesses who are engaged in marketing.
There's no one right answer, but at a high level I would suggest — take yourself on as a client. Sometimes it's difficult for us to navigate our challenges because we're so close to them.
But if you're able to step out of yourself (so to speak) and look at yourself as a third-party client, I'm sure your marketing skills would kick in.
Aside from that, there is no one right answer. Different companies have different approaches that work for them.
It all begins with a value proposition — Ask MarketingSherpa: How to get high-paying customers and clients
And then some companies rely on networking. Others, word of mouth. Some, content marketing. Some do paid advertising. Social media. SEO (I know one small agency that got all his business simply from being the first results for "[City name] marketing"). Some become platinum partners of larger businesses. Others do cold calling and emailing or use biz dev/sales type approaches. You mention the AAF, but have you co-presented with successful clients at their associations? You mention people aren't on Instagram looking for business advice, but they are looking for it somewhere. LinkedIn? Industry forums? Associations? Meetups? Can you be there as well, answering their questions and helping them? That is the first step to getting a services client. It isn't easy. And it takes a lot of work. But ultimately helping people builds trust, and trust is what leads to a services engagement.
In looking at yourself as a client, what resources/budget do you have? And then what strengths/weaknesses do you have? That will help you naturally choose the approach that is the best fit. For example, if you're not comfortable on the phone, dialing for dollars isn't a good fit. If you already have a lot of customer successes, trying to leverage those (beyond direct referrals) by creating content with them on your site or making them look good to their industry might be a fit.
And then, like I mention in the post above, it's about finding your value proposition. The fact that you are a small business is TO YOUR ADVANTAGE if you message it correctly. They won't get lost in a bigger agency. You're there to hold their hand and guide them step by step. Or the fact that you're local and know the local market better than anyone else. Whatever it is, use it to your advantage.
To help stoke your creative fires,  here's a nice look at how small businesses are finding creative ways to use email marketing — Inbox Equilibrium: How small businesses are making an impact in customer's inboxes 
Deanna, I can feel your frustration through your email. And personally, my biggest struggle was always selling myself — it is far easier to see the value and sell someone else.
But this is what we do as marketers. It's our special purpose. Our unique skill — the ability to help others perceive value in something they are overlooking.
So turn that special power on yourself, and use it to generate your own business.
I hope this helps. I know it's not easy. But if it was, anyone could do it, right?
Best of luck on your journey.
Dear MarketingSherpa:  This is solid advice. Thank you for taking the time to respond.
And was so quickly returned! I'm truly impressed. And as a jaded veteran of the industry for just over 20 years, impressing me can be stupid easy, and nearly impossible simultaneously.
I will share this with a small business owner support group I belong to, and put a good portion of it into practice myself.
And really, isn't that the most fundamental question in business? Where do you get new clients?
No matter what level someone is entering the MarketingSherpa / MECLABS world, they would appreciate reading your answers to this question.
Have an incredible day!
Deanna
You can follow Daniel Burstein, Senior Director, Content & Marketing, MarketingSherpa and MECLABS Institute, on Twitter @DanielBurstein.
You might also like …
Small Business Chart: Website budgets
Ecommerce: 2 tips to help small businesses navigate multichannel marketing
Video Marketing How-to: 4 tactics from a small business that generated 1 million YouTube views
Categories: Marketing Tags: graphic design, SEO, small business marketing, social media marketing