Lead Generation Success = Nature + Nurture
What drives a successful lead generation and nurturing strategy for a complex sale?
Is it the nature of the leads themselves? Was its success predetermined at the very birthing of the lead because of the way you generated the lead? For example, a lead filling out a hand-raise form for your service has a far likelier chance of success than a lead clicking on a PPC ad for a free iPad.
Or is it the learned behavior of the lead, the environmental factors you influence them with through your lead nurturing. In other words, no matter how good the lead is, you need to shepherd these people along and help them understand the value of your product or service.
True success requires both quality lead generation and intelligent lead nurturing. Here are tips and examples from some successful business enterprises to help you get better leads and nurture them effectively. (This advice has been edited for clarity and brevity)
This article was originally published in the MarketingSherpa email newsletter.
NURTURE
Answering the unasked questions in the customer journey
Kristian von Rickenbach, co-founder, Helix:
 A Helix (mattress and bedding product manufacturer) lead will convert on average in three months. In that time, they are researching and evaluating dozens of mattress brands and many more mattress types.
We focus heavily on lead nurturing through drip emails for people who come through our mattress customization quiz.
With the personalization quiz, we are able to capture unique attributes about how people sleep. After completing the quiz, users are asked if they want to save their match. With this audience, we know a few things:
1) They took the time to get to the site and complete the quiz
2) Hand raised to save their mattress with the intention to return, and
3) Most importantly, their name
Personalization clearly resonates with this audience and we included the customer's name in email subject lines. After doing that we saw a 54% increase in open rates which resulted in a 69% increase in revenue generated from that campaign.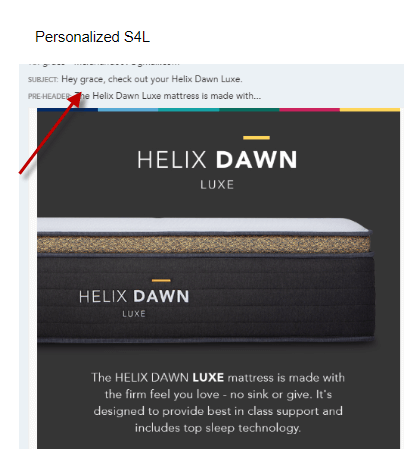 Through various creative tests, we homed in on what specific value propositions over-indexed from an engagement and conversion perspective and use that to inform content for our standard drip and promotion campaigns.
Affordability was one value prop that stood out.
Knowing that we were launching with a new financing partner, we sent an email out that had unprecedented returns for the business. After seeing the performance of a one-off financing options email, it was apparent that this is an important proposition in their purchase decision.
Since that email, we have featured similar content as a standalone email in our welcome series and significantly decreased the five-drip series decay curve. On average, we see a 38% decrease in open rate from welcome series email one to email two and so forth. After adding the financing email to the series at touchpoint three, the trend reversed and increased 15% from email two to email three.
Providing a unique, personalized customer journey
Andy Valeriani, Vice President of Digital Marketing at Flooring America:
We are a cooperative buying and marketing company in the home-improvement space with 500 retail dealers which sell and install residential flooring. Adding new dealer locations to our organization entails a lengthy sales cycle. We are very selective of the businesses we bring into our group, and the process could take multiple years.
Last year, we launched a new dealer recruitment campaign — targeted direct marketing to a segmented list. Each month, the campaign focuses on a hot topic in the residential flooring industry, things that are top-of-mind for the business owners. We demonstrate how membership in our cooperative helps our members deal with these issues. And because business owners would prefer to hear from other business owners, we feature our existing members each month. Those members who have successfully addressed the topic at hand are featured in the ad sharing their advice to the leads in our database.
This campaign helps with lead acquisition, but more importantly, it's nurturing at the same time.  Our database is segmented into A, B, and C prospects, and we target each of these slightly differently based on their position in the lead funnel. If it's going to take us a year before a dealer will join our group, we are presenting our capabilities to them monthly, nurturing that potential relationship.
Ad Example #1:
Audience – Segment A
Topic – Succession planning / multi-generation business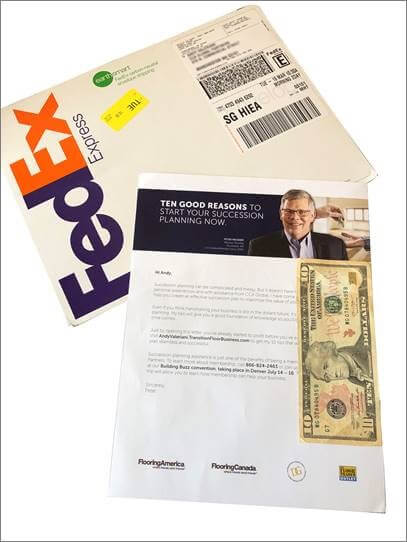 Example #2:
Audience – All segments
Topic – Addressing the installation labor shortage facing all businesses.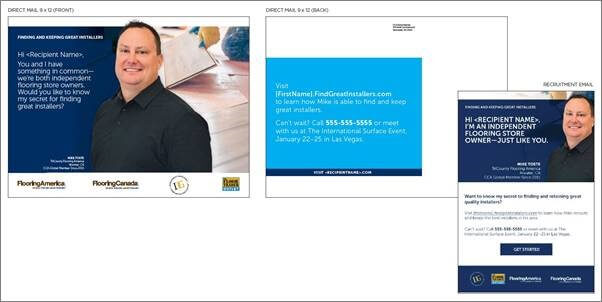 We are approximately halfway through the campaign, and the results have been fantastic. Typically, each month consists of direct mail, email, a PURL landing page and a trade advertisement — all featuring a robust lead follow-up protocol.
Comparing the last seven months with the lead generation and nurture campaign in place to the year prior with no campaign, we have seen a substantial increase in the number of leads in our funnel as well as the sales pipeline.
Lead nurturing essential for new product category
Allen Yesilevich, VP of Marketing & Growth at MC²:
Educating through experiences with the intent of increasing informational retention is a form of nurturing.
An example here could be Toyota Hubweek held in Boston, where we helped Toyota educate their consumers about the hydrogen-fuel powered Mirai, through an experiential digital activation that used several digital assets to educate and convert users. With an intelligent mix of AR (augmented reality), apps, relevant online content and gamification, along with attractive physical activations and displays, we were able to educate, convince and convert audiences across various demographics.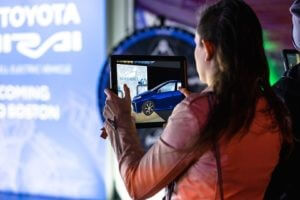 With any Hydrogen Fuel Cell technology, there is always an education process with consumers. Now if you marry that technology with automotive with the intention of selling to the masses, then the priority focus becomes awareness. You're educating about an alternative energy technology to help build awareness of a product within.
HUBweek is a show about innovation and cusp technologies in the market. It's not a product showcase for lead gen. Again, it's building awareness of Toyota's hydrogen fuel-cell vehicle through hands-on education tools like AR, as well as allowing folks to test drive the vehicle to further their education of the technology in an automotive platform. Toyota's "lead gen" efforts were to open a channel of information to folks who wanted to stay on the beat of Toyota Mirai eventually coming to the Boston area in spring of 2020 for consumer purchase.
Staying top of mind and assigning executive sponsors
Alex Membrillo, CEO, Cardinal Digital Marketing:
Early last year, we launched new email marketing campaigns for lead nurturing. We started with developing two tracks for leads, active and inactive. While active leads were pursued based on where they fell within the sales funnel, inactive leads moved into a "Top of Mind" campaign. As the name suggests, the Top-of-Mind campaign is designed to keep our brand top of mind with the lead. That way, when they're ready to move forward or re-engage, we're better positioned to be a company they want to speak with.
We tested seven different email drip campaigns customized for our audiences' industry or job positions.  For example, we have re-engagement campaigns for prospects in the healthcare marketing segment, as well as a CEO re-engagement campaign. Information sent included featured content, eBooks, case studies, free audit offers, webinar invites and more. Open rates have been great, averaging over 61%. This is actually a higher open rate than our monthly e-newsletters typically generate. Additionally, since launching the Top-of-Mind campaigns, our re-engagement averages have risen over 32%. Year-Over-Year sales have increased by 18%.
An additional approach we've used for nurturing prospect relationships is assigning our executive team members to customers and prospects as Executive Sponsors. We piloted this two years ago, and the outcome was so positive we've expanded the program. The Executive Sponsors help to close more sales, especially for key accounts where a junior team member may not be experienced enough to navigate the lead's buying process or corporate needs.
We've found that the Executive Sponsor is often the best person to help articulate the value of our service offerings or recommendations. They also set the tone that the client's business is important to us, starting at the top of our company.
NATURE
Importance of lead qualification
Shakun Bansal, Head of Marketing, Mercer-Mettl:
Earlier when we started building the sales funnel and lead pipeline, we used to consider everyone captured on our pages, form submissions, and chats as a lead. Till the time we were able to completely convert the potential into sales, there was a drastic decrease in the percentage of conversions.
Then, we decided to filter all potentials through a lot of processes — like getting their details captured through HubSpot, and then placing filter calls to check their fitment, and then passing them to sales development team as MQLs (Marketing Qualified Leads) to get their requirements, and then meeting the clients to close the deal.
For effective lead generation, it's imperative to have strict filters of lead qualification that will eventually culminate into better lead nurturing and conversion rates as you learn from your clients – what they need and how well your products fit their needs.
If you are providing a free questionnaire or any other product-related free offering, you should use this as a lead qualification tool. Qualify your leads by having in place some sort of qualifiers on product-related free offerings like:
How interested you are to buy this product in the future?
Are you looking for the product for yourself or your organization?
How many people work in your organization?
Get the right leads in the first place
Daniel Quindemil, Certified building contractor and consultant, I AM Builders:
I own a construction consulting and management firm where we are highly active on lead generation through Google Ads, Bing Ads and Facebook.
Google and Bing offer high and instant conversions, while social media ads offer long-term conversions.
When I first started my pay-per-click campaign, we had over 300 keywords. Since then, we've narrowed it down to five profitable keywords and focus our entire budget there.
We capture emails and send weekly "strategy" emails to nurture clients who are not ready to buy yet, and to reinforce relationships with repeat clients. Sometimes I get clients a year later asking for consulting or estimating services. Our conversion rate on Google and Bing is 25% of clicks become clients.
Facebook and other social media offer a more nurtured approach. People are not looking to buy anything there, so you interrupt their "social" time with an ad, and they sign up to learn more at a future time.
Start with nature, then expand to nurture
David Peterson, Senior Director of Marketing and Strategy, HealthMarkets:
If the targeted leads aren't rooted in the "nature" of their core needs, you will inevitably waste time, money and resources on leads that are not likely to convert. For instance, if we run a Medicare Adwords campaign and target "Medicare providers," the "nature" (or search intent) of these leads is most likely about finding a doctor who accepts Medicare. It's less likely that the majority entering this query are looking for a Medicare plan. Of course, the debate can be solved by testing the campaign and validating what their true "nature" is.
On the other hand, we can generate the lead with the mismatched intent, and over time use email marketing and other channels to nurture them toward becoming a customer, but that's a longer-term play.
When first starting, it's best to focus on the most relevant, qualified leads whose "nature" matches the solutions you offer. Over time and as marketing programs expand and continue to drive revenue, you can keep expanding.
Keyword relevance
Hassan Alnassir, founder and owner of the kids' toy business Premium Joy:
A convenient way to figure out whether a keyword is relevant for your offerings is to search on Google and check the image results. Based on Google results, a person looking for "foam mat" is likely trying to find flooring for their home while "foam playmat" indicates an evident intention to buy a kid's play mat. As a children's toy brand selling mats, aiming for "foam playmat" in blog posts instead of "foam mat" will generate more targeted traffic and better quality leads for my business.
Leverage quality filters in your lead generation forms
Cory Hedgepeth, Sr. Digital Marketing Strategist, Direct Online Marketing:
All leads are not created equal. That's obvious, but what's not always so obvious is how to filter/redirect the good, the average and the poor.
The only way that we determine leads is by data filtration. We need to collect job titles, income estimates, prior experience and more. A qualified lead is determined by past behaviors and current social status data.
In B2B, those filters are vital in maintaining lead quality influx. Marketing in B2B means filtering data points such as company size, job title of lead and location.
For example, we handle digital marketing efforts for Corporate Visions. Corporate Visions is a customer conversation expert who helps companies like Starbucks craft B2B messaging. They leverage quality filters in their lead generation form.

The most important filter is the "company size." Corporate Visions uses a lead quality formula to determine which leads are more likely to result in sales. For them, company size filters are imperative. They want more customers like Wells Fargo and Oracle Marketing Cloud, which makes company size a crucial qualifier. This results in fewer leads, but more impactful prospects.
You can follow Daniel Burstein, Senior Director, Content & Marketing, MarketingSherpa and MECLABS Institute, on Twitter @DanielBurstein.
You might also like …
Research-based Lead Gen Swipe File
Marketing Research Chart: The ROI of lead nurturing
The Lead Gen Fulcrum: 22 case studies to help you optimize for maximum perceived value
Categories: Lead Generation Tags: Augmented Reality, Email Marketing, lead generation, marketing strategy, Online Advertising