Value Proposition: The right strategy beats a bigger budget
Marketers say they have money problems.
According to research from Conductor, lack of budget is the biggest internal challenge that could negatively impact online performance. Securing budget/investment is the most extreme challenge for marketing teams, according to KoMarketing research. And here at MarketingSherpa, you've told us the size of your marketing budget is a barrier to growth time, after time, after time.
Hey, I hear you, marketers. I want a bigger budget as well.
But if you can't simply throw more money at the problem or outspend the competition, you can still beat them — with a better approach. In other words, a more effective value proposition.
I recently came across the perfect example when I talked to a marketer who likely has far fewer resources than you do.
This article was originally published in the MarketingSherpa email newsletter.
A value proposition based on customer-first marketing
Dean Porter is the development director at Hunger Fight, a small local nonprofit organization here in Jacksonville that helps feed Title 1 elementary school students as well as seniors.
Dean and his wife founded their charity in the teeth of the Great Recession. And they quickly learned that organizations were not so keen on simply stroking a check to a charity, even when it was doing noble work like feeding the hungry.
They didn't have a big marketing budget they could fall back on. They couldn't just spend their way into more leads.
So they had to come up with a better idea – a value proposition aimed at giving to their ideal customers, not just taking from them.
They created a model with a value proposition that coupled corporate employee engagement with community involvement by holding meal packing events, which they describe as "two ½ hours of organized chaos to feed children and families."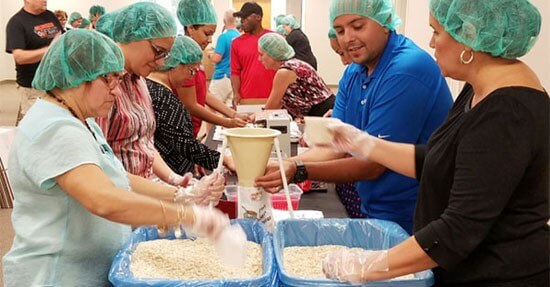 "It's very hard to just get companies to write checks," Dean told me. "But we can go to a corporation and explain to them that we can host a hands-on event with their company from as little as 30 to as many as 1,000 employees as volunteers. When there is participation, it is much more appealing."
So a nonprofit that was formed to help feed the hungry ended up being a nonprofit that coordinates truly uplifting and impactful corporate team-building events (no trust falls or rope courses necessary).
But their efforts' end result has been 6,404,328 meals to children and families in need in Northeast Florida and Southeast Georgia, to be exact.
By co-creating value, by creating a value proposition that has a win-win baked into the ask, Hunger Fight has a slew of major corporations willing to donate food and labor to the cause — companies like Humana, FIS, and Florida Blue — and 92% of these companies hold repeat events.
Experiment your way into a customer-first value proposition
Now back to your brand. Do you have a customer-first value proposition focused on what really matters to your customers? Or do you rely on getting a bigger and bigger budget so you can present your ask to a large enough volume of customers that some are bound to say yes?
If you don't have the right value prop yet, experiment your way into it.
"Don't give up. Try everything at least once. Figure out what works. If it doesn't work, you might want to try it a second time. If it doesn't work again, scrap it and move on to something else," Dean advised.
You can follow Daniel Burstein, Senior Director, Content & Marketing, MarketingSherpa and MECLABS Institute, on Twitter @DanielBurstein.
You might also like …
Value Proposition Development on-demand certification course
Value Proposition: Congress has a value exchange problem … do your marketing offers?
Email Marketing: How DonorsChoose.org generates revenue with transactional and triggered email
Value Proposition Testing: 64% of marketers say landing pages are most effective
How a Value Proposition Workshop Has Enabled Teams Like Yours to Optimize their Marketing and Sales Funnels
Categories: Value Proposition Tags: fight hunger, florida, Marketing, non profit, value proposition development