Best of 2017: MarketingSherpa's most popular content about email, customer-first marketing, and competitive analysis
As you head into 2018, I hope you have grand plans on how to exceed your company's goals, improve results and create even more effective customer-first marketing.
Whatever your plans are for 2018, it all begins with an idea — and the inspiration to carry out that idea.
Hopefully, here at MarketingSherpa, we've played even a small part in powering those ideas and providing that inspiration. To give you that little extra oomph before we cross the line into 2018, here's a look at some of our readers' favorite content from the MarketingSherpa Blog this past year.
Time to Move On: Three email marketing habits your customers are sick of seeing
We provided some ideas for email marketing habits you might want to break. Habits like tricky subject lines.
Or overlooking your email's true call-to-action. "Actually, I kind of view it as a failure for that email if they do click on anything but my main CTA. That was the point of sending the email," said Bart Thornburg, Senior Manager, Email Marketing, Wedding Wire.
Read the blog post to see if any of these habits look familiar to you from your email marketing campaigns.
Email Marketing: Five ideas to increase your email's perceived value
Value, much like beauty, is in the eyes of the beholder. And for marketing, that beholder is the customer.
So how can you create value for your email subscribers and make sure they perceive that value?
For one thing, you should be thinking of your emails as more than just promotions. "Content-focused emails now sell just as well as the product-focused ones," said Blake Pinsker, Marketing and Brand Director, MVMT.

Relevance is always key. For example, including product names in cart abandonment emails, "customers seem to have a really high open rate in that one because it recognized what they had been looking at not long ago," said Victor Castro, Director of eCommerce, Zachys Wine & Liquor.
If you can increase the perceived value of your email, it can have a significant impact.
"Email is just such a huge driver, such a huge foundation of our business. Our ability to connect to our donors and teachers all happens through email, and … about 25% of the donations we'll get from individuals this year will be in response to emails we send," said Katie Bisbee, Chief Marketing Officer, DonorsChoose.org.
Read this blog post to learn more from all five ideas.
How to Use Social Media Tactics to Make Your Emails More Enticing
Email was a popular topic on the MarketingSherpa Blog this year. But to really succeed in email, see what you can learn from other channels as well — like social media.
"I was running just a social campaign for them and spending $500 and just putting it out there — hotel plus ticket package — and targeting people with just the base offer," said Melani Evans, Director of Corporate Marketing, Affinity Gaming.
Evans' team ended up bringing the promotion to email, using a social tactic — gamification — to get a 400% increase in the rate of ticket sales.
Another successful tactic is integrating video into email sends.
"We may do like a quick 10-, 15-second reel of an auto show … and then we'll have the full five minutes posted and ready for YouTube. We'll break out a piece for our email," said John Ken, Director of Customer Retention Marketing, Edmunds.com.
Read the full blog post to get ideas for leveraging lessons from social media to improve your email marketing.
Content Marketing 101: How to write compelling content in five tips
"If your stories are all about your products and services, that's not storytelling. It's a brochure. Give yourself permission to make the story bigger," Jay Baer, President, Convince and Convert.
This blog post offers some tips for telling your brands' story with content marketing. And having your customers help tell that story as well. For example, if you're interested in making user-generated content part of your content marketing, put the customer first. As Wikipedia co-founder Jimmy Wales advises, you need to start by asking "What do people want? What do they need?"
Customer-First Marketing Strategy: The highest of the five levels of marketing maturity
As you reflect on ways to improve individual tactics this time of year, don't overlook the big picture. What is your organization's approach to marketing as a whole? How do you treat customers? What's your department's North Star?
This blog post explores an overall marketing and business framework created from our customer satisfaction research with 2,400 consumers.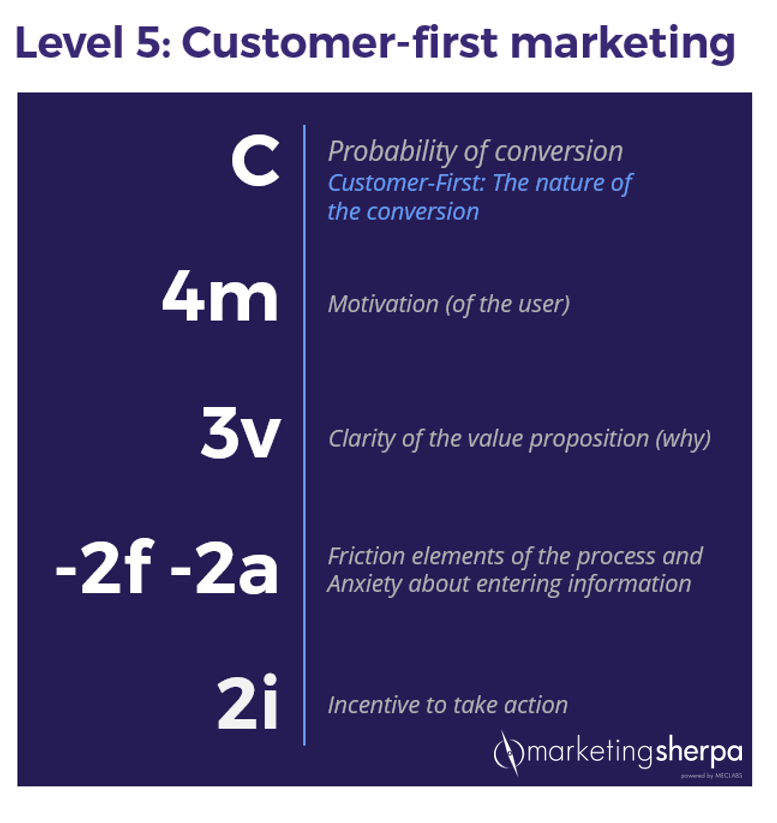 And a perennial favorite …
How to Write a Competitive Analysis (with 3 free templates)
We wrote this piece back in 2012, but it continues to be very popular.
And for good reason. The advice — and templates — in the blog post are evergreen.
Use these templates to better understand and craft marketing strategies to beat your competitors, both old and new.
"Sometimes companies will focus too much on reviewing their traditional competitors and forget to frequently monitor search results to see if there are new competitors in the mix or potential new substitutes for your product or service," said Ana Gabriela Paez, Associate Director of Research, MECLABS Institute.
Read this blog post and download the free templates and start 2018 with a leg up on the competition.
You can follow Daniel Burstein, Senior Director, Content & Marketing, MarketingSherpa, on Twitter @DanielBurstein.
You Might Also Like
Marketing Research Chart: Does a good customer experience really affect business success?
Rapid-Fire Results: Get quick ideas for improving your customer-first marketing
Customer-First Marketing: The customer is always right … but not always right for your company
Categories: Marketing Tags: competitive analysis, content writing, Email Marketing, Marketing, top content