Marketing 101: What is lead attribution?
Marketing has a language all its own. This is our latest in a series of posts aimed at helping new marketers learn that language. What term do you find yourself explaining most often to new hires during onboarding? Let us know.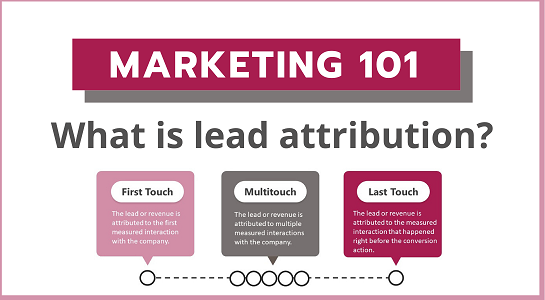 This article was originally published in the MarketingSherpa email newsletter.
Lead attribution is the process of determining which marketing activities should be credited for bringing in a potential customer, also known as a lead.
The exact definition of what is considered a lead will vary based on the lead management process at each company, but for the purposes of this article, we will consider a lead as a potential customer that indicates interest in a company (for example, filling out a form or calling for more information).
Lead attribution is extremely valuable
Lead attribution is both extremely valuable and maddeningly difficult.
It is so valuable because if companies know which marketing activities produce leads, and which do not, they can optimize their marketing investment. As department store owner John Wanamaker famously said more than 100 years ago, "Half the money I spend on advertising is wasted; the trouble is, I don't know which half."
So even though lead attribution doesn't have the creative glory of other marketing practices like copywriting, design, content marketing or branding, don't overlook it. In fact, I'm writing this blog post because I received a question when I was waxing poetic about lead attribution in the recent article – 8 Mini Case Studies of Using Marketing as a Force for Positive Change in Our World While Getting Results for Your Company and Clients. In the article I say …
"Listen folks, I've been doing this a long time. So when I started looking for stories for this article, I had my assumptions about which marketing tactics this article was going to cover:
Landing page optimization to better communicate value —that's a given.
Content marketing — probably more than one mini case study.
Better ad targeting — of course.
But lead attribution?
Valuable tactic? Absolutely. But it's boring, behind the scenes, and has little direct correlation to bring about positive change for people. At least, that was that my assumption.
If you've had similar assumptions, check out this next story."
The mini case study goes on to tell the story of how a marketing attribution technology helped fuel a little friendly competition between radio stations in a radiothon that ultimately raised $500,000 for Feeding America during the COVID-19 pandemic.
Which brings up the point — while lead attribution is the term I most often hear thrown about, attribution can be applied to any customer action that companies seek, including product purchases or, in the above case, donations during a radiothon. For that reason, there are other similar terms — like marketing attribution or revenue attribution – that refer to roughly the same thing: understanding which marketing or advertising (or even sales or public relations) activities contribute to a company achieving its goals.
Lead attribution is also maddeningly difficult
I say maddeningly difficult because it is so hard to truly know what ultimately encouraged a customer to act. For example, if a customer clicks on a digital ad and then fills out a form on a company's website, marketers may attribute that lead to the digital ad.
But perhaps the customer clicked on the ad because she saw a newspaper ad from the company that morning. Then once she saw the digital ad, she trusted the brand enough to click. If a company solely attributes the lead to the digital ads and stops print advertising, it may hurt lead flow because future customers won't trust the digital ads enough to click on them.
Digital advertising is far easier to attribute than print advertising. This may be one of the reasons that print advertising is declining while digital advertising is rising even though print ads in newspapers and magazines are the most trusted advertising channel when customers are making a purchase decision.
So while attribution numbers can be helpful, it is important to take those metrics with a grain of salt realizing that the marketing activities and advertising channels that are easier to track will tend to be overrepresented.
Types of attribution
There isn't only one right way to engage in attribution. If you choose to create a lead attribution program in your company, you will have to choose how to attribute marketing touches. The three most common techniques are:
First-touch attribution: The lead or revenue is attributed to the first measured interaction with the company. For example, subscribing to an email newsletter.
Last-touch attribution: The lead or revenue is attributed to the measured interaction that happened right before the conversion action. For example, if a customer clicks on a Facebook ad and then makes a purchase, the Facebook ad would be attributed as the cause of the purchase.
Multi-touch attribution: The lead or revenue is attributed to multiple measured interactions with the company. For example, the subscription to the email newsletter may get 30% credit for the purchase, and the Facebook ad may get 70%. While multi-touch attribution will probably be the most accurate representation of what affected customer behavior, keep in mind, it will still overlook activities that are difficult to track (like a newspaper ad) or activities that marketers in the company can track but don't consider impactful enough to attribute (like reading a blog post).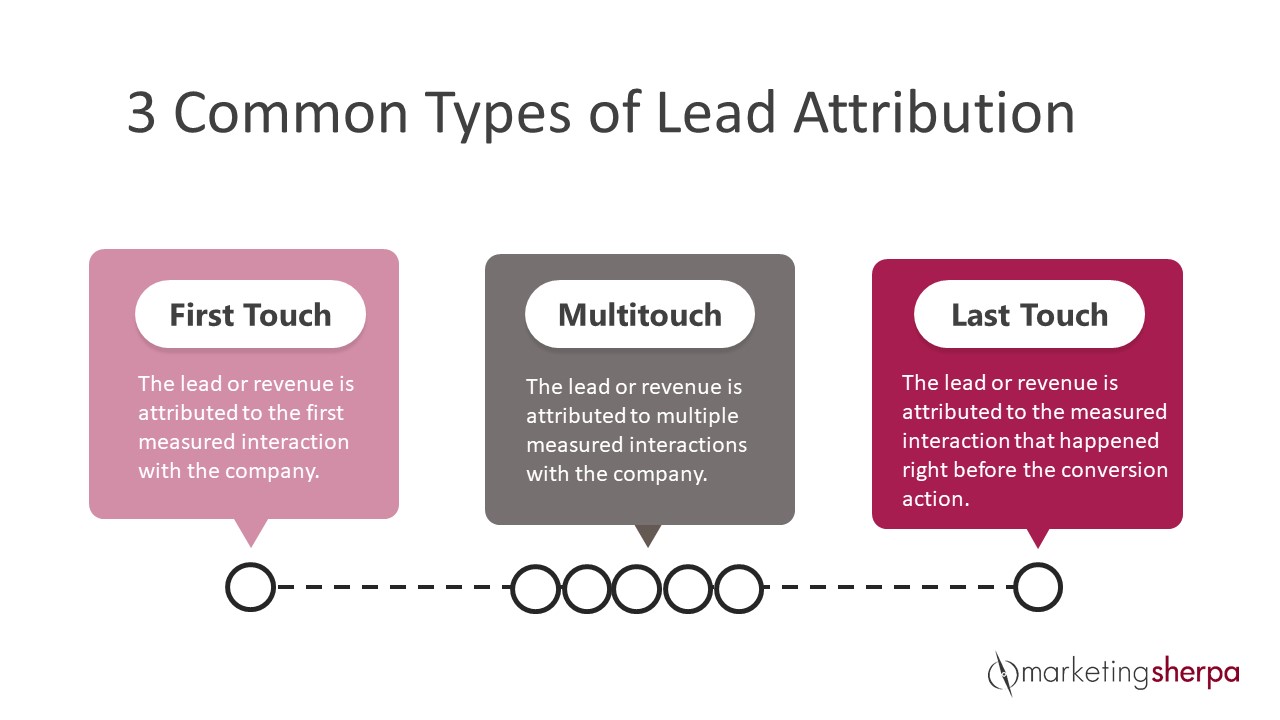 Giving credit where credit is due
Even if they don't have totally accurate, perfect information, the biggest benefit of lead attribution in companies with a salesforce is to get some credit for the marketing department.
As Jen Doyle said in the article Marketing Research Chart: How does your lead gen budget add up? "It is unfortunately common for organizations to view Marketing as a cost center and Sales as a revenue generator. A great way for marketers to correct this misconception and, more importantly, barter for budget increases is to implement a lead attribution process. This allows them to properly tie marketing activity to revenue, so they can plead a strong case and eventually win the funds they need to develop a strong lead generation campaign."
All the challenges I've discussed aren't unique to lead or marketing attribution. These are fundamental to human success in any endeavor.
I'll leave you with this story. I was with a CEO who was showing me around an office he just made an offer on. "It'll look better when they get rid of all this staging furniture and tchotchkes. This stuff is so tacky. They're coming to take it all out right now, and I can't wait to get rid of it," he told me.
I left the office and walked over to the elevator. Just as the doors open, I overhead this conversation, "I'm telling you, staging makes all the difference. I put in all the staging furniture, artwork and design flourishes, and got an offer on the office in under 48 hours."
Be careful what you attribute for success and failure. It forms the very basis of the decisions you make in life.
If you are interested in lead attribution, you might also like …
Marketing Attribution Chart: Data from more than 500,000 customer buying journeys
Improve Revenue Attribution: 5 Insights to Recognize the Impact of Contributing Channels
Improve Attribution: 8 Steps to Measure the Impact of Your Marketing Efforts
If you are interested in entry-level marketing content, you might also like …
The Beginner's Guide to Digital Marketing: 53 articles (and 1 video) to help with onboarding
Marketing 101: What is PPC in marketing?
Marketing 101: What are variable tags?
Categories: Lead Generation Tags: customer touchpoints, lead attribution, lead generation, marketing 101, marketing tracking, onboarding